5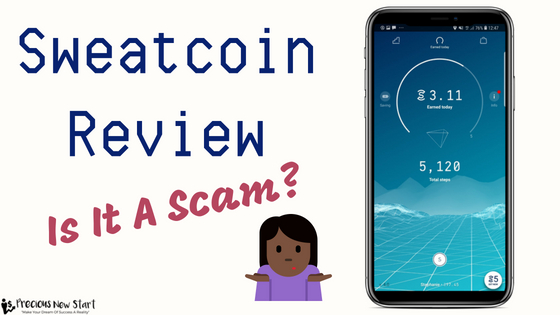 Sweatcoin – The App That Pays You To Walk…But Is Sweatcoin A Scam?!
This post may contain affiliate links. If you choose to purchase something through one of my links, I will earn a small commission at no extra cost to you.
What are your thoughts on walking?
Probably not always the most interesting activity, right?
But, what if there was a twist...
What if there was an app that would reward you for walking and staying active?
I bet that would make things more interesting.
Well, the good news is, such an app actually exists, and its name is Sweatcoin!
But wait, there must be a catch, right?
You're probably wondering...
"What is Sweatcoin really about?"
"Is Sweatcoin worth it?"
"Is Sweatcoin a scam?"
All will be revealed in this Sweatcoin review...
More...
What Is Sweat​​​​​coin?
Sweatcoin is a mobile app that pays you a "digital currency" to walk and stay active, which you can exchange for fitness related rewards.
This digital currency is known as Sweatcoin (SWC)
Ultimately, the more active you are, the more SWC you'll earn, and the more rewards you can redeem.
The app is available for Apple mobiles and Apple Watch, and Android devices.
How Does Sweatcoin Work?
There are 3 steps to getting started with Sweatcoin:
Join Sweatcoin for free via the App Store or Google Play Store
Start walking
Exchange coins for rewards
How To Download Sweatcoin?
To get started right away, just click on the relevant play store button for your mobile device and download the app straight to your phone.
As soon as it's installed, you're ready to go!
How Much Can You Earn With Sweatcoin?
The amount you earn on Sweatcoin is based on how active you are on the app.
1000 Steps = 0.95 SWC
It's also good to remember, that you won't get paid in cash. You'll get access to fitness-related rewards, which you can redeem your SWC on.
To be able to earn any Paypal cash, you would need to earn 20,000 SWC.
So for many people, this could take a longer time, depending on how many sweatcoins you're able to earn.
Additionally, it also depends on which membership level you are currently on...which I will discuss further.
Sweatcoin Memberships
There are currently 5 different memberships within Sweatcoin, and each membership has a daily limit to how many sweatcoins you can earn.
As a free member, your maximum daily cap is 5 sweatcoins, this increases as you move up the higher tiers.
But you can pay for the upper tiers using the sweatcoins you're already earning. So there's no need to spend any actual money
Level 1 - Mover: FREE
Earn up to 5 SWC/day or 150 SWC/month
Level 2 - Shaker: 4.75 SWC/month
Earn up to 10 SWC/day, or 300 SWC/month
Level 3 - Quaker: 20 SWC/month
Earn up to 15 SWC/day or 450 SWC/month
Level 4 - Breaker: 30 SWC/month
Earn up to 20 SWC/day or 600 SWC/month
Level 5 - Trouble Maker: Coming Soon
Tip: Only upgrade to levels that you know you'll be able to afford with your SWC. There's no point upgrading to the Quaker level if you're not making at least 20 SWC a month, otherwise, you'll just be losing SWC instead.
"12 Legitimate Ways To Make Money Online Without Taking Surveys!"
Enter Your Best Email To Download The PDF
Tips On How To Get FREE Sweatcoins
1. Daily Reward
You can earn 1 SWC every day by clicking the "Claim it now" button and watching a short ad
It's a little effort required to earn some free sweatcoins, without being active.
2. Sweatcoins From Referrals
You can also earn free sweatcoins by referring others to the app. For each referral, you can earn 5 Sweatcoins.
If you'd like to join my Sweatcoin group, then be sure to sign up through my referral link, using the button below:
How To BUY More Sweatcoins
I've mentioned some great ways to earn extra SWC for free, but what if you want to earn much more than that, and you're willing to pay.
Well, here's 2 places where people are selling and buying SWC, and in some cases, you can pay via Paypal.
I personally would stick to using this app for free, however, if you feel comfortable enough with the app and making purchases/selling, then here are some options for you:
1. Reddit Group
There's a whole subreddit on Reddit dedicated to Sweatcoin. Here you'll find people sharing their tips, experiences, and SWC for sale.
Take a look at the Sweatcoin subreddit to learn more, and click here for the ​official Sweatcoin buying/selling thread
​

2. Sweatcoin Guide
There's a full website, SweatcoinGuide.com, aimed at users of Sweatcoin to learn more about the app, gain some new tips and tricks, and purchase/sell their own Sweatcoins.
With this website, you can gain quite an in-depth knowledge of Sweatcoin as well as make SWC purchases.
Sweatcoin Rewards
Above are some screenshots of rewards you can expect to earn with Sweatcoin.
From money off vouchers, to free trial offers, to free gifts. There are a few things to choose from.
You won't like every reward on there, but hopefully, you'll come across some that will suit you.
Sweatcoin Pros and Cons
Sweatcoin My Experience
I am currently a user of Sweatcoin, so my review is based on first-hand experience.
My sister introduced me to the app and I wasn't too sure about the app at first, but once I downloaded it I was able to start earning coins straight away.
It works passively in the background, so I don't have to do anything. I just go about my regular day to day routine for most days and have started exercising more to stay active, and this app has given me a bit more incentive to walk and run outside.
I forgot about the app for a week or so, then when I had looked back on the app I was pleasantly surprised by the number of coins I'd made.
At the time of writing, I haven't yet redeemed my points for any rewards, but I will update this blog post accordingly.
I have noticed my battery life has been shortened since using the app, but thanks to my tips below I have this covered.
Additionally, as it's using mobile data, this may be an issue for some users on lower data plans. So it's something to be aware of.
Anyone interested in earning some rewards with little to no effort, then I think this app is a great addition to have on your phone.
Some Quick Tips From My Experience:
Carry your phone with you everytime you walk outside
When running or active outside, consider using a sports armband, like this one, for your phone
If you find you're losing battery quicker, turn the battery saving mode on and/or invest in a simple power bank, like this one.
Sweatcoin User Reviews
Here are a few screenshots of reviews by other Sweatcoin users:
Final Thoughts - Is Sweatcoin Worth It?
Thanks for taking the time to read my Sweatcoin review.
As mentioned above, this review is based on my own personal experiences.
I think this is a great app for anyone interested in earn some rewards, without too much effort. There's no need to complete surveys or any "get paid to" tasks. All you need to do is stay active outdoors.
You can walk a bit more, run outside, play in the park. With just a little extra time spent outdoors, you can claim some great rewards.
Despite the positives, it's important to realise that this app will not make you rich, and you won't be able to cash out the coins into money.
If you're aware of this and still want to go ahead, then Sweatcoin is for you!
So, is Sweatcoin a Scam?! In my opinion, No. Although it'll take time to rack up coins and earn anything substantial, it's an app you can just have running in the background.
If you're someone that's already active outside, then you won't have to change much to your routine.
Even if you're not very active, just a few small changes here and there can make a difference, not just to earning coins, but also to your overall health.
This app has some potential, and it's worth giving it a go, even just for a month or so.
If the rewards work for you then stick with it, if you don't like the rewards you can easily uninstall.
To join Sweatcoin, download to the app today via Apple or Play store and start getting rewarded for being active!
A much Better Way To Make Money Online...
---
After testing and reviewing multiple ways to make money online, I've discovered Affiliate Marketing is one of the BEST!
Sweatcoin is good, but unlike earning a few Sweatcoins daily, you'll be earning a monthly income and building a REAL online business you can be proud of.
Please note, it's NOT some "get rich quick" scheme and there are definitely NO false promises.
Interested?
P.S. It's FREE to join...no credit card needed here!
What are your thoughts on Sweatcoin?
Are you a user of this app? What have your experiences been?
Have you recently uninstalled the app? If so, what made you uninstall?
I'd love to hear your thoughts on this app. Please share your thoughts, comments and experiences below.