12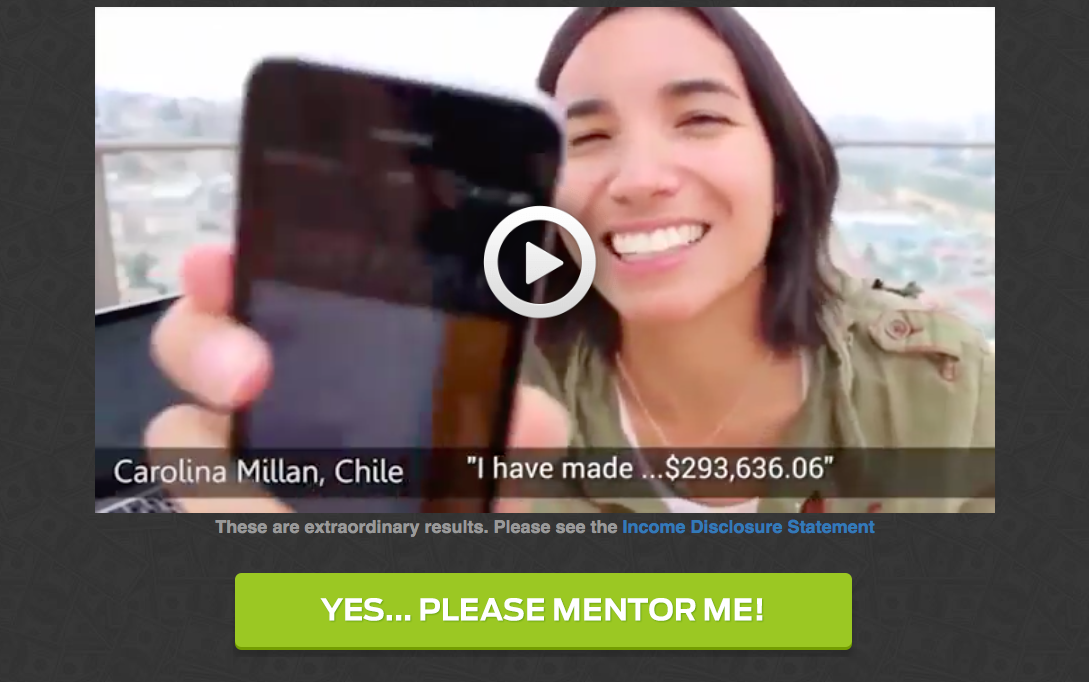 Is My Millionaire Mentor Legit? – Let's Find Out!
This post may contain affiliate links. If you choose to purchase something through one of my links, I will earn a small commission at no extra cost to you.
It's 2017, and many of us are getting on board with our New Years resolutions. One common resolution people have is to find new ways to make some extra money…this includes making money online.
This is also usually the time, unfortunately, when unsuspecting people get sucked in by "gurus" that claim to help you make crazy amounts of money in a short period of time with their "simple system". One such program is My Millionaire Mentor.
The term "millionaire" stood out to me, so I decided to take a look at this program and see if it's something that could really help you be a millionaire. So, is My Millionaire Mentor legit?…Let's find out!
---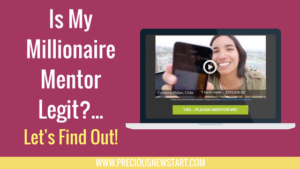 Name: My Millionaire Mentor
Website: www.MyMillionaireMentor.co
Price: $49 OTO + Upsells
Owners: Ryan Mathews (however, this is questionable)
Overall Rating: 0/10
What is My Millionaire Mentor?
---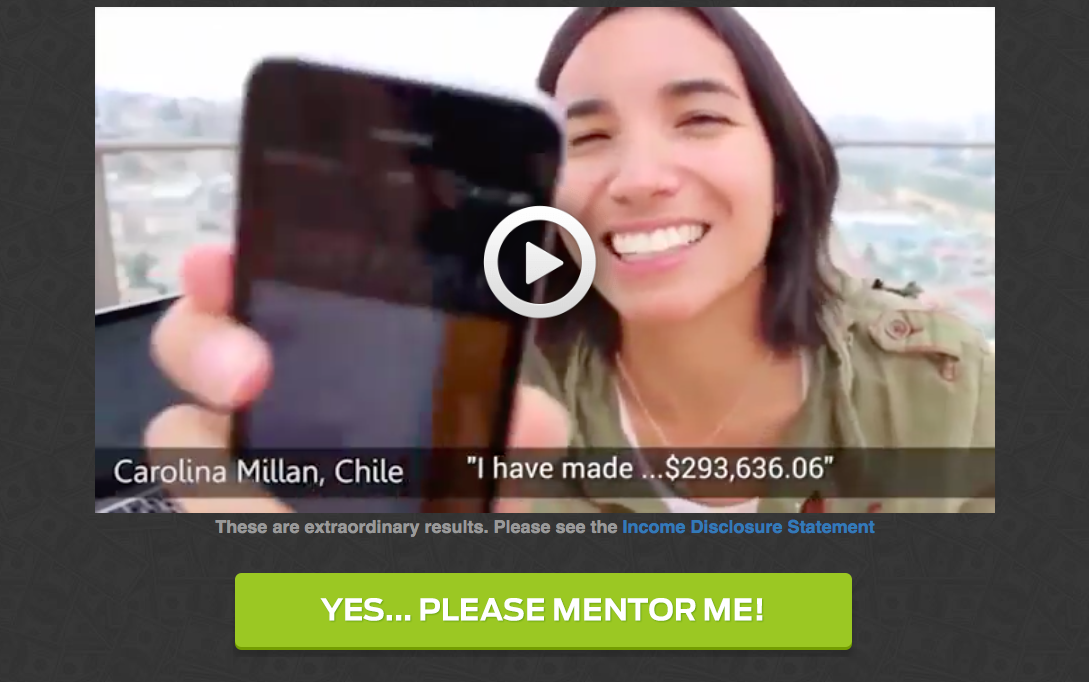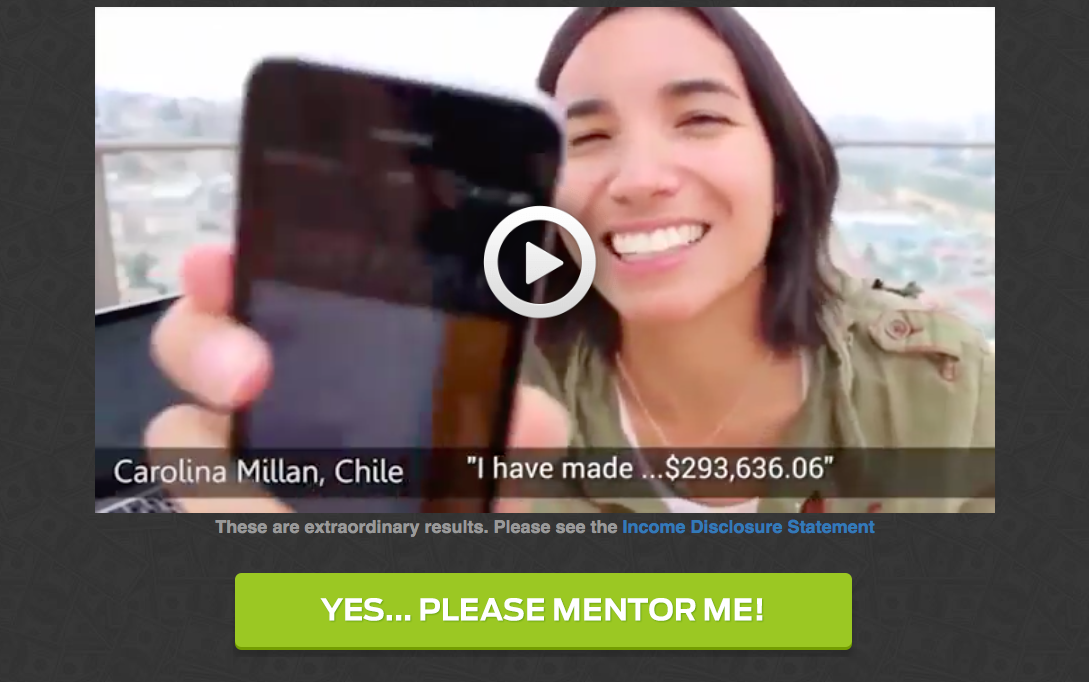 My Millionaire Mentor presents itself as a program that can help you make money online and start an online business. It claims that you can make up to $5,500 in commissions in a short space of time using a "done-for-you" system. This system apparently does all the grunt work for you and all you have to do is drive people to the system, and there'll be a team of coaches closing the sales for you.
When you enter the site you're presented with a video. At first glance, there's no logo or anything to suggest that the page is associated with My Millionaire Mentor. So if you appeared on the site, how would you know who the owner is? I personally wouldn't feel comfortable investing in a program that doesn't want to showcase it's name or brand on the site.
So, moving on….
As the video starts playing you'll hear about a super simple 21-step system and the chance to become part of a private club. You'll soon learn that this private club is actually a program called My Own Business Education aka MOBE. I'll discuss this in further detail as you read on.
My Millionaire Mentor aims to teach people how to be successful online, while also claiming it is not an MLM company. It justifies this claim by saying you don't need to recruit people. Although this may be the case, you'll find out later in this review that the program is not all it that it appears in the video.
You'll also hear a number of "testimonials" within the video which have people sharing how much money they've made using this system. However, none of the people actually mention My Millionaire Mentor in their testimonials. If the program is earning them all this money, why wouldn't they want to mention it in their testimonial? If it was me and I was really happy with a brand I would mention it quite a few times in a testimonial or review.
Well, there's no mention of My Millionaire Mentor because it is not the program being promoted in this video.
That's right…My Millionaire Mentor isn't the program that you'll be joining. It's just a page that leads you to another program called My Top Tier Business (MTTB), which is a product of MOBE. It probably sounds confusing, but as you continue to read this review you'll find out more about MTTB and MOBE.
How Does My Millionaire Mentor Work?
---
According to the video, here's what you'll be doing when you sign up to My Millionaire Mentor:
You'll be working with a "highly regarded private company" with access to in-demand high-end products and services
You'll be referring people to the company
A team of experts will work with your referrals on the phone and close the sales for you
When they do, you will be able to earn $1,250-5,500 commissions
So, they talk about a company you'll be working with…however, you're given the impression that My Millionaire Mentor is the company, and that the man in the video is the mentor. However, as mentioned previously, this is not the case.
Furthermore, the training will supposedly show you how to find referrals to join the program.
So in essence, you'll be making money by driving people to the program…but not to My Millionaire Mentor, you'll be driving people to MTTB.
What is My Top Tier Business (MTTB) and My Own Business Education (MOBE)?
---
My Top Tier Business (MTTB) is a 21 step online business system that aims to teach you how to create an online business and earn your first $1,000 online. You'll be taken through 21 steps with access to a personal coach. My Top Tier Business is actually part of the MOBE product collection.
MOBE stands for My Own Business Education and was started by Matt Lloyd. MOBE is an online training platform that aims to show you how to build and grow a business online. They have a number of products within their training platform, which includes the entry level product MTTB.
I looked throughout the MOBE site to try and find out more information about the 21 steps and what the training will include, but I couldn't find anything in detail. All they tell you is that there are 21 steps.
Why have they chosen not to mention any details about the steps? Why would they feel the need to hide that information? The fact that I'm having to ask these questions gives me warning signs about the program because in order to find out more you have to pay the $49.
There's no official list of the steps included, but after doing some extensive research online it would appear that by step 6 you could expect to pay $2,997 for licensing some of the products. At step 9 you could expect $9,997 for the "elite group"  and step 10 pay $16,667 for the Platinum Mastermind Conference. We've barely made it to halfway and you could potentially spend almost $30,000. Now, that's a massive stretch from the $49 we were presented with at the beginning. You'll end up paying for products when you don't even know what they're about or what's included.
Don't forget…you'll also be paying $19.95/month just to be an affiliate of the products you purchase, and won't earn commissions on products you haven't purchased.
This is very similar to another program I reviewed on my site, Empower Network. You can take a look at my review here.
MTTB  may offer quality training, but I doubt it justifies the price. The training is aimed at helping you get traffic to the system. Do you really need to spend $1000s to learn that information?
I'm part of a program that can teach you this and LOTS more for only $49/month. No over priced upsells, and no misleading information…just quality training at an affordable price.
What is the My Millionaire Mentor "Amazing Bonus"?
---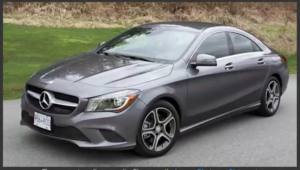 My Millionaire Mentor is offering this "amazing bonus" that will allow you to get your own Mercedes if you make 5 commissions in 6 months!
If this program is so simple I'm sure the average person will be able to make those 5 commissions really quickly right?
Well, through further reading, it turns out the Mercedes isn't actually bought for you, it's leased. So if you stop making any sales, they cancel the lease.
Am I surprised by this?…not at all!
When I first heard the claim I didn't believe it and didn't take it seriously, and now I have more reason not to.
Who Is The "Millionaire Mentor"…Ryan Mathews?
---
From the video, Ryan Mathews is the creator/owner of My Millionaire Mentor. Ryan talks about being married and expecting his first child. He shares a picture of his "dream home", which he claims to live in and further goes on to talk about his life before his success, and gives the classic sales video "sob" story of having no money, lots of debt and maxed out credit cards etc. You've probably heard those many times before.
Having taken the time to find out more about Ryan Mathews I believe that this person does not exist. When you search the name Ryan Mathews, you'll find web results and images of an American Football player.
This football player looks VERY different from the image you see of Ryan Mathews in the video, therefore it's clear they are not the same person.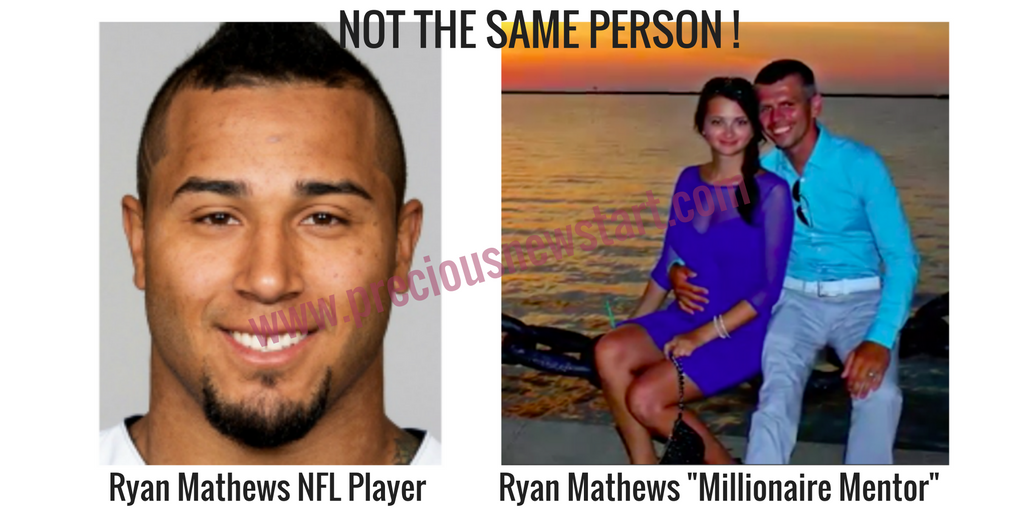 (Ryan Mathews NFL Player image source here)
If Ryan the Millionaire Mentor offers such a good program that's helping so many people be successful, why is there no evidence available of this person exisiting anywhere online? I couldn't find any social media accounts, or anything to suggest that this man is a real person and is involved any online business.
As a result, I have no confidence in this program or the success that the program claims you'll achieve. Would you really want to invest in a program that lies to you about the owner/creator?
If it was legit, why would they need to lie?!
Training and Tools
---
My Millionaire Mentor doesn't actually offer you any tools or training. The website has no substance to it. It's just a video that tells you what is apparently involved in the program.
The video continues to talk about this 21-step system but doesn't actually specify what is included in the system.
Can you believe, after 30 mins of watching the video you can't tell what you'll actually get from the training, but you're still expected to invest $49?!
That definitely rings alarm bells to me.
Pricing
---
When you sign up to My Millionaire Mentor you'll be charged $49 One Time Fee.
There's a 30-day money back guarantee, however, you have to prove that you've gone through all the 21 steps without making any money. As you go through the 21 steps you'll find out there's more than just the $49 involved. So after all the thousands of dollars you spend through the steps, the $49 won't mean much to you when, or if, you get the refund.
Furthermore, if you decide to purchase the program and go ahead to click "Yes…please mentor me!", you'll be taken to the payment page. You'll notice at the top left-hand corner that the logo is MOBE and not My Millionaire Mentor.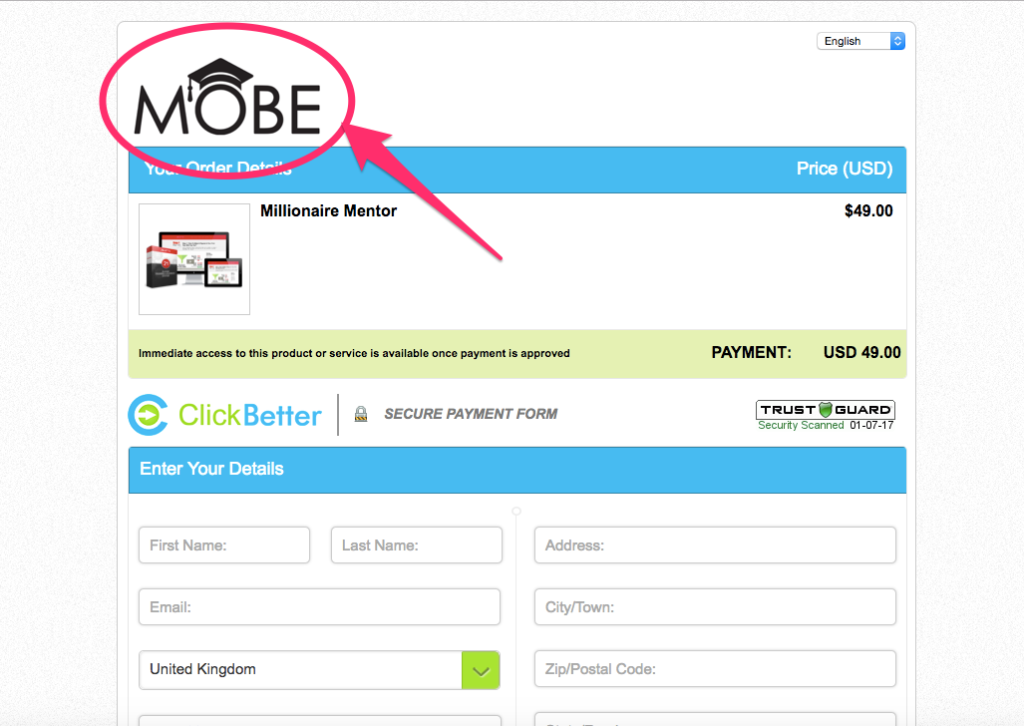 So what happened to My Millionaire Mentor? If you were purchasing this program, wouldn't their logo be on the payment page?
Not only have they lied about the owner of the program, they've also lied about who the payment is going to.
Would you feel happy giving your money away to a program/system that is clearly dishonest from the start?
Support
---
There's no actual way to get in contact with the owner of this "program"…probably because this Ryan Mathews doesn't exist. There's no social media page and no contact form. The only person you'd most likely be able to contact is your sponsor when you decide to pay the $49 fee and join the MTTB 21-step system.
This doesn't really give much assurance if you're going to be investing $49 to a program or "mentor" when there's no way of getting in contact with them before making the purchase. Would you really want to invest into something like that?
Pros
---
None! The program doesn't exist, so there's nothing positive I can say about it.
Cons
---
As mentioned, Ryan Mathews of My Millionaire Mentor does not exist
My Millionaire Mentor Isn't An Actual Program.
Ultimately it's just a landing page which leads you to MTTB
You're expected to pay $49 when you don't really know what the program is about. You don't get to trial the program at all.
You're Lied To From The Start
There's so much misleading information in the sales video and lies about the program.
Commission Payments Are Not Made Via Paypal.
This is usually a deal breaker for me when looking at online programs. I also like to look into the reasons why they don't use PayPal, and the "excuse" from MTTB did make me laugh. They claim that their products are "top tier"  and because you're dealing with top tier commissions the PayPal fees will add up.
Really?!
So essentially, they claim that they're too superior for Paypal.
The Only Way To Make Money Is To Sell The System
You'll only make money if you get referrals by selling the system. You're not taught anything else than how to sell the system.
Some Steps In The 21 Step System Require You To Make A High-Priced Purchases.
One of the purchases is to get hold of a licence to sell the products as your own. Although people claim this is not compulsory, others say that you can't move forward without it. This is mainly because the phone coaches will not let you move forward unless you purchase these products…why? because they earn a commission for those sales! So it looks like some coaches are more interested in making the sale than actually helping you in your online journey.
Your Mentor Is NOT Ryan Mathews.
Firstly, he doesn't exist, and secondly, your mentor will actually be your sponsor. In most cases, your sponsor won't be interested in helping you succeed, they'll be more interested in getting you to buy as many products as possible to earn the commissions for those sales. If you sign up to my #1 recommended training program I'll be ready to help you if you have any questions and/or direct you to where you can get the help you need. I genuinely want to help you succeed.
At the end of the day, I'm all about helping people be successful online. I only promote legitimate programs that I use myself and/or I feel others will really benefit from. I wouldn't want to make you feel forced into buying a program just so that I can earn a commission, it's not right and I wouldn't feel comfortable doing that. My aim is to help you make well-informed decisions about programs before making any investment.
Is My Millionaire Mentor The Best Online Program For You?
---
In a previous post, I wrote about 6 simple ways to find the best "make money online" program for you. I focused on 6 questions to ask yourself about a program before deciding to join. In my personal opinion, this is not the best online program simply because it's only a link to another "make money online" program.
The table below will summarise My Millionaire Mentor against those 6 questions.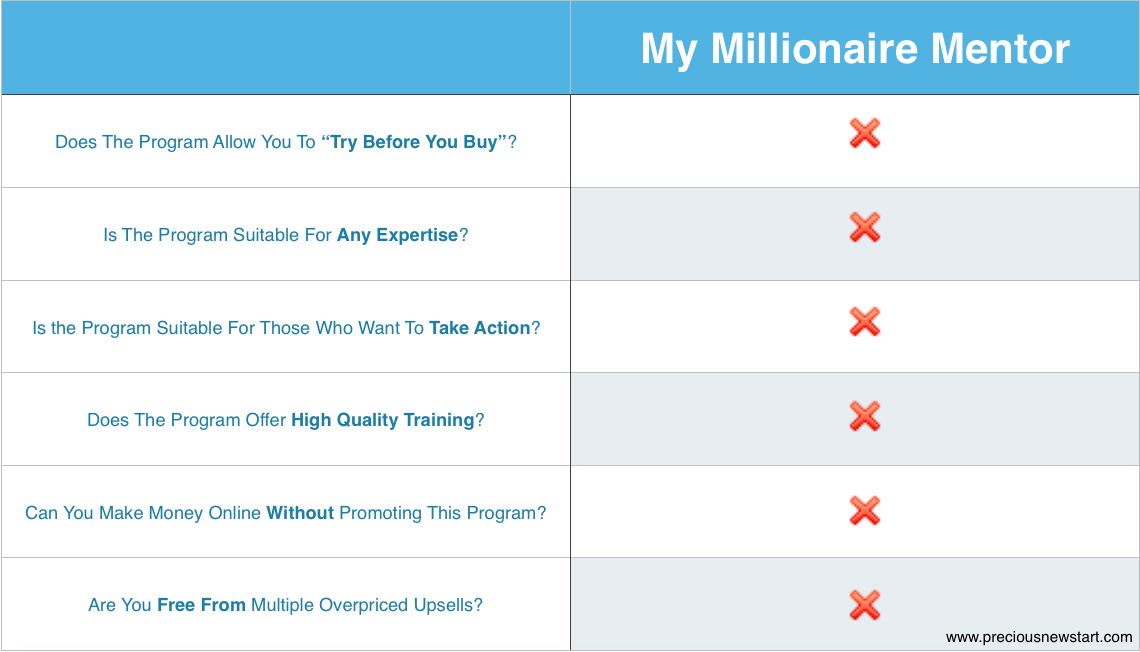 So based on these questions, My Millionaire Mentor is not the best online program for me…or anyone. All it does is sell you a "dream". There's no actual training involved and no "Millionaire Mentor"
My Millionaire Mentor FAQs
---
Is My Millionaire Mentor legit?
I don't usually like to go around calling scam, scam, scam…but in this case, I would say that My Millionaire Mentor is a scam and not at all legit. This is because it is extremely misleading, and encourages you to pay for a "dream". There's no actual substance to the program and you're being made to believe you're joining My Millionaire Mentor when in fact you'll be joining another program that'll end up costing you a lot of money, that you probably don't have.
Is My Millionaire Mentor an MLM scheme?
Well, no it's actually not an MLM scheme. But that's because it's not anything but a landing page with a "convincing" video. In regards to MTTB and MOBE, then those programs have many elements of an MLM scheme.
Would I recommend you join My Millionaire Mentor?
No, you should definitely NOT join My Millionaire Mentor. You will just be lead into a program that requires a substantial investment. At first, you'll pay $49, but then the other upsells will start to appear, and in my opinion, they are definitely not affordable for the average person looking to start an online business. In order to take full advantage of the program, you'd need to spend $1,000s. And the "owner" ofMy Millionaire Mentor even said it themselves, the typical purchaser will not make money with this program. Well, that's because it's not real!

My #1 Recommendation
---
I'm currently an active member of Wealthy Affiliate and I personally like to recommend this program because it provides you with a training platform that allows you to learn how to earn an income online through Affiliate Marketing. It gives you access to the right tools and training to help you get started.
Below are some of the reasons I recommend Wealthy Affiliate over My Millionaire Mentor:
FREE to join – You can try out the program completely free, and remain a free member if you choose. There's also the opportunity to test out the premium features for the first 7 days
You get to interact with the owners and contact them directly. – They are real people and you get to know their names. Recently one of the owners did his first live video…so that just goes to show that they are genuine people
You know when you sign up you're joining only Wealthy Affiliate. – You're not paying for a program you don't know anything about
You know what the training includes – When you sign up you get to see what the different modules are about and what topics they cover before you even pay the premium price
It's $49 a month for premium membership, but you get training, live training, website hosting for up to 50 sites, and a huge community of like-minded individuals…and MUCH MORE
You don't have to be a paying member in order to promote Wealthy Affiliate and earn a commission.
You can earn money without promoting Wealthy Affiliate. – There are lots of people on Wealthy Affiliate that are earning a full-time income without promoting Wealthy Affiliate, so it's not your only way of making money.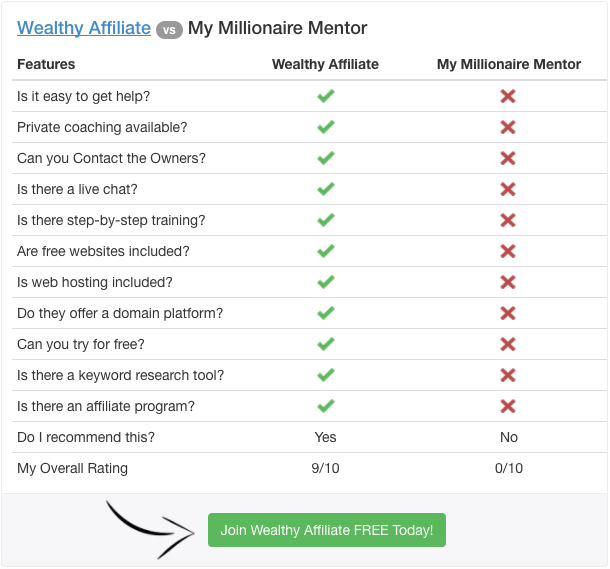 SPECIAL WEALTHY AFFILIATE BONUS
If you join me at Wealthy Affiliate, as a special bonus you'll get your first month for only $19. That's over 59% discount. It's a great way to really test out the premium membership and see if Wealthy Affiliate is for you.
However, you can always get started with the FREE membership first. Check out my review here.
My Final Thoughts
---
It's pretty clear from my review that I do not recommend My Millionaire Mentor, nor do I think it is a genuine program. It's just a landing page that links you to another program. My Millionaire Mentor doesn't disclose this information or make it clear that he will not be your mentor in the video. You're made to believe that Ryan will be alongside you through the program, but how can he be when he doesn't even exist.
How can you be expected to invest into a program that offers "training", but doesn't actually explain what the training really involves?
The sad part is there are people that will find this sales video convincing and pay the $49 entry fee. I hope my review will encourage you not to make that investment. I've given very clear reasons for why this site isn't the best online program for anyone.
Even if you decide to join the $49 fee, do you have up to $30,000 to invest in the products/training? Even if you had that money to spend, would you feel comfortable investing in this program?
At the end of the day, those are questions you need to answer yourself, but I just hope you can answer them with a clear and informed mind.
So, is My Millionaire Mentor Legit? No! In my opinion, it is not a legitimate program, mainly because it doesn't exist. There is no Ryan Mathews, no millionaire mentor, and the sales video is very misleading. All these factors and those mentioned throughout this article, prove that the program is not legit.
If you're looking for a genuine training program that you can try out for FREE, then take a look at my #1 recommended program.
---
What are your thoughts on My Millionaire Mentor?
Do you have any personal experiences of it?
Also, do you have any experience of My Top Tier Business and/or MOBE?
Share your thoughts, comments and opinions in the section below