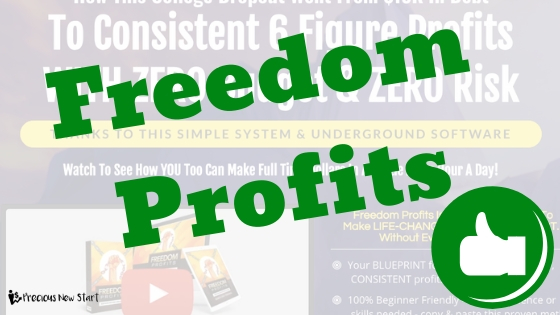 Is Freedom Profits Legit? – Earn $355 A Day Freelancing?!
This post may contain affiliate links. If you choose to purchase something through one of my links, I will earn a small commission at no extra cost to you.
Welcome to this Freedom Profits review.
How would you like to earn 3-figures, working only 20 minutes a day, with:
NO Selling
NO Email Marketing
and NO Paid Traffic?
That sounds like the ultimate opportunity right?!
Well, Freedom Profits is a software that claims it can help you achieve that.
But what's the truth...is Freedom Profits legit, or is it just another rehashed product?
The fact you've made it to this review shows you're interested in uncovering the truth about Freedom Profits and would like to know more about how it could help you make money online.
If that's the case, then congratulations on making it here and taking the decision to do your own research.
Let's get into this Freedom Profits review...
Product Name: Freedom Profits
Website: www.GetFreedomProfits.com
Owner: Jason Fulton, Mosh Bari & Abdullah Ashraf
Price: $12.95 + UPSELLS
Rating: 7/10
Type of Opportunity: Freelancing
Verdict? LEGIT ​
More...
What is Freedom Profits?
Freedom Profits is a cloud based online software that offers training and tools to help you successfully make money online as a Freelancer.
The cost of the main software is only $12.95, but in that, you get a lot of value, and a step-by-step case study to help you get the most out of freelancing opportunities.
How Does Freedom Profits Work?
While watching the sales video, it wasn't 100% clear at first what you'll be doing to make money online with this software.
But as I researched deeper into the product, I was able to learn that the business model is focused on freelancing.
Here's a quick look at the 3 main steps involved in Freedom Profits:
Step 1: Set up the system, following the step-by-step videos
Step 2: Use the "automated" software to increase your results
Step 3: Use 60 minutes or less a day to bank more cash
The claims seem really bold and a bit hyped up, but the business model involved is real.
What's Included In The Training?
In the Freedom Profits software you can expect to find:
"Quick Cash Method" which shows an overview of the system
"Paint By Numbers" video guides with step-by-step training.
Automated software tool
"Zero to $10,951 in 60 Days" Case Study
Pricing + Upsells
Here's a breakdown of the pricing of Freedom Profits and the upsells that are included:
Freedom Profits (Main Product) -

$12.95

Done For You Freedom Profits System (Upsell 1)

$37 or Downsell ($17)

Has all the features of the main product, but gives you the opportunity to have every "done-for-you"

Freedom Profits Guaranteed Success (Upsell 2)

$197

Group coaching where members can ask questions
Shared strategies to help members 3-5x their business

Freedom Profits Secret Strategy (Upsell 3)

$47 or Downsell ($27)

Extra training showing "advanced" tactics to scale your Freedom Profits income.
Taught how to flip Freedom Profit campaigns for profits

Set This Up On Autopilot (Upsell 4)

$77 or Downsell ($47)

Shows you how to outsource everything and have it run on autopilot

Licence Rights (Upsell 5)

$97 or Downsell ($47)

Sell Freedom Profits as your own and keep 100% of the profits.
Freedom Profits Bonuses
There are 3 bonuses available when you access Freedom Profits during the launch:
BONUS #1: Weekly LIVE Streams & Updates
BONUS #2: VIP Facebook Group and Coaching
BONUS #3: Templates, Profiles and Additional Cash Opportunities
The Good...
The NOT So Good...
Despite this being a legitimate product and a legitimate way to make money online, there are a few things that I'd like to touch on.
Final Thoughts
Thank you for taking the time to read through this Freedom Profits review.
So, is Freedom Profits legit?
As you can see, Freedom Profits is definitely a legitimate opportunity, and it uses real genuine platforms to help you in your online business.
For the price, you get some great value included, and the upsells are totally optional.
The main downside is the fact that it requires you to exchange your time for money.
Therefore, you're not able to benefit from the same time freedom you'd get when earning a passive income.
Thanks to a method known as Affiliate Marketing, I'm able to passively earn 3-figures in a day...and you can too!
If you're interested in following my footsteps and discovering more about Affiliate Marketing, then you should click the GREEN button below to find out more in my FREE guide to making money online.
Discover How I Earn 3 Figure Commissions Using Affiliate Marketing
---
Let's discuss:
What do you think, is Freedom Profits legit?
Do you think you can earn 3-figures a day as a freelancer?
Are you already in the freelancing business? How did you get started? What training and tools did you use to begin your business?
I'd love to hear your thoughts, comments and experiences in the comments section below.