2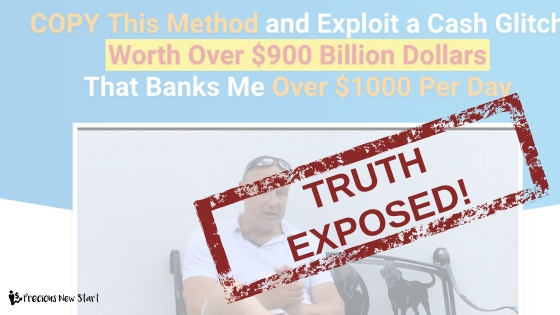 Is CoinChest A Scam? 4 Reasons Why You NEED To Stay Away!
This post may contain affiliate links. If you choose to purchase something through one of my links, I will earn a small commission at no extra cost to you.
Hi there, welcome to my CoinChest review.
How would you like to be able to earn $1000 a day online?
The chance to exploit a cash glitch and earn 4 figures a day?
That's what the owner of CoinChest claims he's able to make online.
But can he really teach you the exact methods to pocket $1000/day online?
The fact that you've reached this page shows that you're wondering "Is CoinChest A Scam?", and you want to uncover the REAL truth about this system.
If that's the case, then I want to say "well done" for researching this program for yourself. It shows me you're serious about earning money online, and want to find the best, most legit opportunity.
So, without wasting any more time, let's unravel the hidden truth about CoinChest...
Product Name: CoinChest
Website: www.CoinChest.app
Owner: "Rob Walker"
Price: $39 - $49 + Upsells
Rating: 1/10
Type of Opportunity: Cryptocurrency/Trading
Recommended? NO
More...
What Is CoinChest?
CoinChest is a program that claims you can exploit a "$900 Billion Dollar" cash glitch to make money online, with Cryptocurrency.
The owner claims to make $1000/day with this method...but can you make the same?
Let's find out more...
How Does It Work?
Based on the sales video, it's not 100% clear how you'll be using the program to make money, other than the fact that it involves Cryptocurrency.
It appears you will get some training in the member's area, but Cryptocurrency as a whole is a volatile way to make money online, and the training in these types of programs tend to be very weak and difficult to make any real money.
Is CoinChest A Scam? 4 Reasons Why You NEED To Stay Away...
While doing my research for CoinChest, I discovered a number of red flags that concerned me and as a result, I strongly believe this is a program you NEED to stay away from.
1. "Discount" Costs Is More Than The Product
One of the first things I noticed about CoinChest was that when you exit the webpage you're offered a $10 off discount.
I soon discovered that I was actually being offered a $10 increase on the regular price using the offer link.
Confused?
So am I!
The initial cost of the program is apparently $39, but when I clicked through the "Get Started Now" discount link, the price was increased to $49.
This made me very uncertain about the product, and then I discovered even more shocking truths...
2. Unclear Pricing
On the sales page, the price of the product is revealed as $49.
However, after clicking "I want access" and entering my email the cost of the product reduced to $39.
The lack of clarity and confusion in regards to pricing and discounts further raised my suspicions about CoinChest.
3. App Removed From Clickbank More Than Once
Not only did the lack of pricing on the sales page and the scammy pricing concern me, but after further digging, I later uncovered that the program has been removed from Clickbank on multiple occasions.
Why would a program which claims to be a legit way to make money online be removed from Clickbank, not once, not twice, but multiple times?
I've never known a product to be removed from Clickbank once, let alone multiple times.
After I saw that I just knew I had to write this review and encourage others to stay away.
4. Not Enough Mention Of The Risks Of Trading Crypto
In addition to suspicious actions listed above, the sale video also fails to outline the risks involved in Cryptocurrency.
As a result, it solidified my ongoing distrust about the product.
Pros
Despite the negative evidence, there are some things that i guess can be seen as a positive
Cons
How I Make Money Online (Without The Risk)
Although Trading Cryptocurrency offers real opportunities to make money online, unfortunately, it can also be an extremely risky and volatile way to earn an income online.
Not just that, but there are tons of fake programs, like CoinChest, claiming to have a "secret loophole", in order to exploit those less knowledgeable in trading.
Interested in avoiding the risk?
Then I would like to recommend Affiliate Marketing.
Affiliate Marketing involves promoting other peoples products, and earning a commission when the products sale.
It's a low risk, low entry way to earn a real income online.
In fact, you don't need to spend any money to get started, so it's low investment too.
If this is something you might be interested in, then you can check out my #1 recommended training platform, and create your FREE account today!
Not convinced?
Here are a few screenshots below of income I've been able to earn thanks to the affiliate training I received from my #1 recommended course:
Plus...here are some other commission payments from other affiliate programs. I'm not sharing these to brag, but to give you a glimpse into the income potential that can be earned, thanks to Affiliate Marketing.
I'm not sharing these to brag, but to give you a glimpse into the income potential that can be earned, thanks to Affiliate Marketing.
Of course, your income could be more, or it could be less. As long as you know that there's no "quick fix" way to make money online.
All in all, Affiliate Marketing is a business that requires hard work and determination.
If that's something you believe you can do, then I'd encourage you to take a look Wealthy Affiliate for FREE, and discover why it's my #1 recommended training platform for beginners.
Final Thoughts
Thanks for taking the time read through this CoinChest review.
As you can see from truths I uncovered in this review, there are a range of red flags which raised my suspicions about this program very high.
Unfortunately, more and more scammy products are making their way onto the Clickbank forum, but that doesn't mean that it's impossible to find legit ways to make money online.
All it means is that you need to be extra vigilant, and do your due diligence when looking for online opportunities.
That's why I write these reviews, to share with you the genuine ones and steer you away from the online scams.
What To Do Next...
So, now that you've had a chance to ponder on this review, here are a few suggestions for what to do next.
Start by asking yourself:
Is Affiliate Marketing a business model you want to get involved in?
and...Would you like to follow in my footsteps?
Yes?!
Then you should click the GREEN button below to get access to the starter membership today...completely FREE.
---
Let's discuss:
What did you think of this CoinChest review?
What are your thoughts on Trading & Cryptocurrency?
Are you an aspiring trader or already involved in Crypto? What methods do you use to earn an income online?
I'd love to hear your thoughts, comments and experiences in the comments section below.