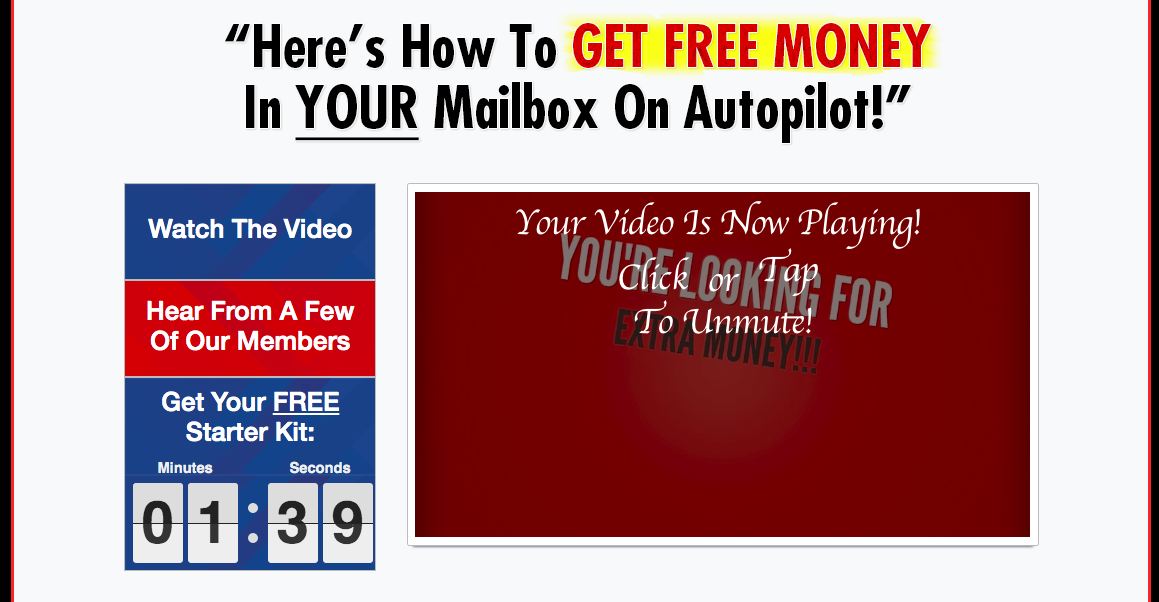 Is Cash Club Fund A Scam (Or Secret To $100s A Day On Autopilot?)
This post may contain affiliate links. If you choose to purchase something through one of my links, I will earn a small commission at no extra cost to you.
Welcome to my Cash Club Fund review.
If you've made it to this page, chances are someone has tried to get you to sign up to Cash Club Fund.
But what's the deal with this growingly popular program?
Is Cash Club fund a scam, or is it your ticket to banking $100s a day on autopilot?!
Discover the truth this in review...
Overall Rating: 10/100
More...
What Is Club Cash Fund?
Cash Club Fund is a direct mail cash gifting scheme that claims affiliates of the system will receive $100 in their mailbox on autopilot...with no promoting.
But as I researched further into this scheme, I realised that things were not as they seemed...
How Does Cash Club Fund Work?
Essentially, affiliates who join Cash Club Fund send cash in the mail in hopes that they'll receive $100 from other affiliates they get to join.
Not just that, but you can't actually access Cash Club Fund without using someone else's affiliate link.
If you do end up getting access to an affiliate link, you'll be required to enter in your email address to get access to the Cash Club Fund sales video.
Once on the sales video page, you'll be directed to complete a further 2 steps:
Step 1: Call the "toll-free" number - You'll listen to a series of voice testimonials (but there's not guarantee that these testimonials are even genuine)
Step 2: Enter postal/mail address to receive your starter kit - After this step you'll discover more about how you'll be earning money.
Want To Discover The Method I Use To
Earn $100+ In A Day?!
Is Cash Club Fund A Scam? 5 RED Flags Exposed...
There are some red flags I came across while researching this program, so I wanted to share with you a few things you should know before you even consider signing up...
1. Misleading, Bold Claims
One of the things thats struck me was their bold claims about how easily you'll be making money with this system.
The problem here is that, to earn money you need to have referrals, and in order to be successful with referrals, you need to have some internet marketing skills/experience.
Without this, you'll find it just as difficult to make money online with any similar kind of system.
So my advice to you is not to be lead by the hype of "making $100s on autopilot".
2. No Product Or Service
Ultimately, Cash Club Fund has no tangible product of service that you'll be selling.
All you're doing is promoting the system and working hard to recruit others members.
That's the only way you can make money with this system, which I'd say is very akin to a typical MLM (Multi-Level Marketing) scheme.
I would encourage others to stay away from systems that don't offer a real product or service and only pay you when you recruit others.
3. Compensation Plan
Maybe I'm being biased, but any system that offers a compensation plan is already a red flag in my books.
I can't understand why your hard work and earnings should get passed up to another person.
So the idea of a compensation plan doesn't sit well with me.
But not just that, the compensation plan in the Cash Club Fund system rasies even more flags.
For example, if your referral sends $100 in the mail, you'll receive $20 as a commission. Then your referrer will receive $20, and their referrer will receive $20 and so on.
So for every referral you get, you're only earning $20...not $100!
4. No Mention Of The Risks Involved
There's no mention of the potential risks involved in sending your cash in the mail to complete strangers.
Your money could easily get into the wrong hands, and your hard earn cash is gone.
There are much better, and more reliable alternatives to making money.
5. Systems Like This Don't Last Long
To be honest, I've seen systems like this come and go, such as Abundance Network which lost it's merchants only a few weeks ago.
The red flags above are enough for me to see that this is not the best way to earn a long-term legitimate income online and create financial freedom.
Pros
Cons
Final Thoughts - Is Cash Club Fund A Scam?
Congratulations on making it to the end of this Cash Club Fund review.
Ultimately, Cash Club Fund is another overhyped MLM opportunity that makes false claims about how much money you can make online.
So, Is Cash Club Fund a scam?
I don't believe Cash Club Fund is 100% a scam since users can make some money with this and there is some training available.
However, the red flags outlined above are more than enough reason to say that this is not a legitimate way to earn a long-term income and create financial freedom for yourself.
There are many better options available online, and I feel that your time and money would be better spent elsewhere.
Final Verdict: NOT Recommended
Ultimately the decision is yours, but that is why I'm determined to write reviews like this, to help users like you find the best, legit opportunities online.
Tired of Scams?! Here's Something That's Working For Me...
If you're tired of scams, I want to share with you how Affiliate Marketing has been working for me, and countless others.
Affiliate Marketing has allowed me to earn income results like this...
Want to discover more?!
...then you should click the GREEN button below to get access to my FREE guide to making money online.
---
Let's discuss:
What did you think of this Cash Club Fund review?
What are your thoughts, is Cash Club Fund a scam?
Are you a member of Cash Club Fund? What have your results been?
I'd love to hear your thoughts, comments and experiences in the comments section below.