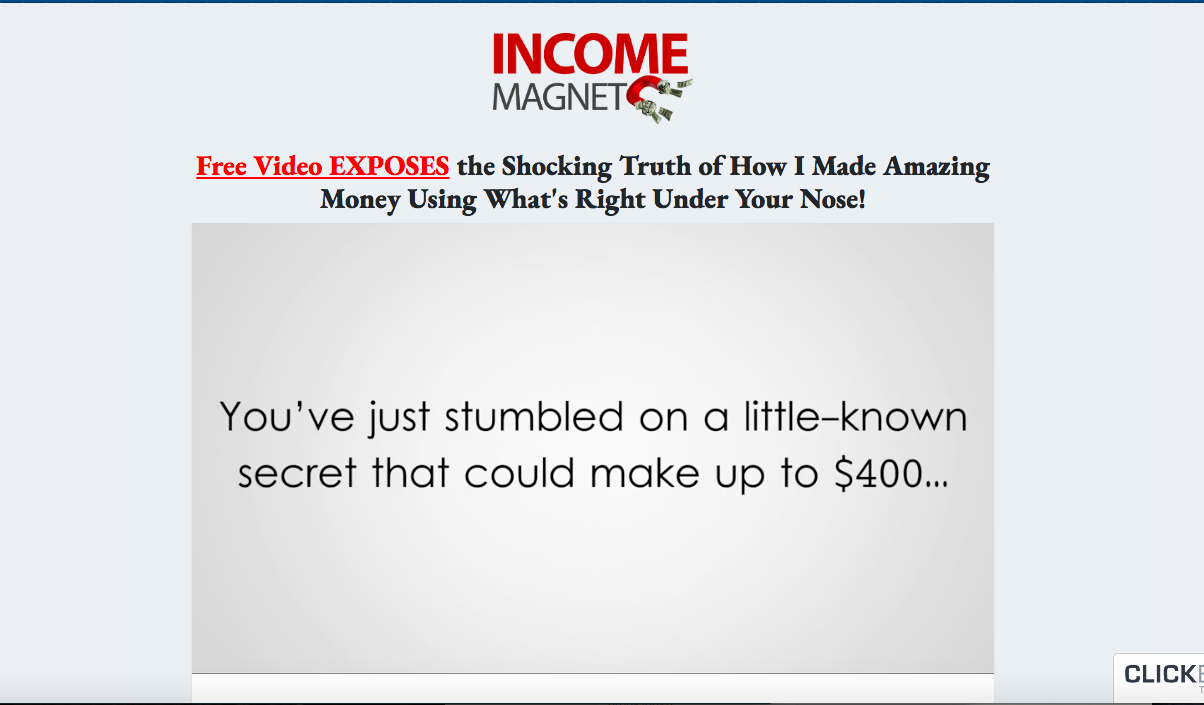 Income Magnet Review – Is It A Scam or Legit Way To Earn $1k A Day With Your Voice?!
This post may contain affiliate links. If you choose to purchase something through one of my links, I will earn a small commission at no extra cost to you.
Welcome to my Income Magnet review.
I have a few quick questions for ya...
Have you ever thought about earning money online from home, using your voice?
How about potentially being able to earn $1000 a day?
That would be awesome right?!
Could Income Magnet be the program to help you achieve those financial goals?
The fact that you've made it to this page tells me that you're interested in Income Magnet and discovering the truth about this online opportunity.
If that's the case, then I want to say "well done". With scam products on the rise, it's important to do your research and find out the truth for yourself.
So, let's crack on with this Income Magnet review and unfold the reality...
Product Name: IncomeMagnet
Website: www.CopyHisSuccess.com/IncomeMagnet
Owner: "Dan Redding" (FAKE NAME)
Price: $37 + Upsells
Rating: 20/100
Type of Opportunity: Voice Over
Recommended? NO
More...
What Is Income Magnet?
Income Magnet is a product that claims you can make $1K a day online using their "simple", "zero experience" method.
Ultimately, you'll supposedly be making money with your voice by providing voiceover services.
Income Magnet throws some bold claims in their sales video, but ultimately, the method of providing voiceover services is actually legit.
But do I recommend going through Income Magnet to get those voice over jobs?
Keep on reading to find out...
How Does It Work?
Based on the sales video, you'll be using Income Magnet to log onto websites online and browse various voiceover offers.
The offers are supposedly from people who are willing to pay cash in exchange for users to read and record words from a script.
But, Is Income Magnet A Scam? 3 MAGNETIC Secrets Revealed...
There are 3 main red flags in this program which I will discuss further below:
1. Overhyped and Misleading Income Claims
The income claims are totally overhyped and misleading information is presented in this sales video.
This system claims you can earn $1k or $2k in a day, with "zero experience".
These are very bold claims, and unfortunately, it gives a really false impression about the actual results you can get with voiceovers, especially as a beginner.
​

2. FAKE Owner
Similar to other online products I've reviewed, the "owner" of this program is using a pen name
Here are a few other products I've reviewed where the owner use a fake name:
Get access to the biggest online community of Affiliate Marketers discovering how to make money online the right way...1.4M and counting
Unfortunately, Income Magnet is one of those products that advertise a low entry fee and then surprise you with upsells right after you sign up.
Now, upsells are not uncommon in business, however, the trouble comes when you have a product like this that relies on upsells to scam you out of your money.
At first, it doesn't look like you'll be paying more than the $37, but after some digging, I managed to discover that affiliates of this "system" can earn up to $235 per referral.
Therefore, you could end up paying more than $300.
This is much more than the $37 joining fee, which highlights the fact that there are more products being upsold after a buyer enters the front end offer.
Pros
Cons
Final Thoughts
Congratulations on making it to the end of this Income Magnet review, and thank you for taking the time to read through it.
So, is Income Magnet a scam?
Ultimately, Income Magnet is another overhyped opportunity that makes false claims about how much money you can make online...but the method of making money online with voice overs is legit.
Here's a list of some legit websites that are hiring users for voice overs.
(Please note, some of these sites require previous experience)
Despite these legit sites mentioned above, sadly, more and more products like Income Magnet are making their way onto Clickbank.
This means any of you looking for a legitimate "make money online" opportunity needs to be extra vigilant and continue to do your research.
That is why I'm determined to write reviews like this to help users like you find the best, legit opportunities online.
Tired of Scams?! Here's Something That Works...
If you're tired of scams and want to be part of something that's been working for me, and countless others, then take a look at this!
I earn an income online through Affiliate Marketing, which is basically a method of promoting other people's products and earning a commission when it sells.
Affiliate Marketing has allowed me to earn income results like this...
Thanks to my #1 recommended training platform, I've gained the necessary skills to generate affiliate commissions like the ones you see above.
Not only that, but these 4 members are able to earn 4-figures every month thanks to Affiliate Marketing.
Ultimately, I'm not sharing these to brag, but to give you a glimpse into the income potential that can be earned, thanks to Affiliate Marketing.
You could very well earn more, or you could earn less. It all depends on your hard work and determination.
All in all, Affiliate Marketing is a business model that I know works very well.
If that's something you believe you can do, then I'd encourage you to click the GREEN button below to discover more about my top recommended Affiliate Training program.
---
Let's discuss:
What did you think of this Income Magnet review?
What are your thoughts on making money online with Voiceovers?
Are you currently offering services as a voiceover? What methods do you use to earn extra money online
I'd love to hear your thoughts, comments and experiences in the comments section below.