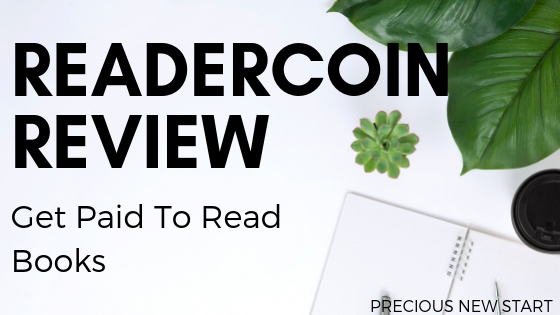 How To Get Paid To Read Books With ReaderCoin [REVIEW]
This post may contain affiliate links. If you choose to purchase something through one of my links, I will earn a small commission at no extra cost to you.
**Update **
Unfortunately, it appears that ReaderCoin is no longer listed on the app stores.
Therefore, you can no longer earn with this website/app.
For the best alternatives, I suggest this guide:
---
Welcome to my ReaderCoin Review.
Ever thought about how to get paid to read books?
Well, today I want to share with you an awesome smartphone app that allows you to do just that!
Yes, you read that right!
There's a legit smartphone app that rewards users for reading (and listening) to books
So, if you've been looking for a new way to earn some extra cash, with little to no work, then you've made it to the right place.
Stay tuned while we uncover more about this app.
More...
What Is ReaderCoin?
ReaderCoin is an app that allows you to get paid to read (and listen) to books on your smartphone device.
The idea is that ​users are paid in points, which can be redeemed for cash and product rewards.
Their mission is to get more people in the world reading...so the more you read (or listen), then more you get to earn!
How Does ReaderCoin App Work?
You can earn 1 point for every 10 minutes of reading or listening.
And, you can even earn more by having a reading streak, which is earning at least 1 Readercoin a day.
For example, if you reach a 3 day streak, you'll be able to earn 2 ReaderCoins for every 10 minutes, until you lose you streak (so that's double the earnings).
How To Get Paid To Read Books With ReaderCoin?
You earn 1 point for every 10 minutes of reading or listening, which can be redeemed for rewards.
Some rewards include:

Amazon gift cards
Store gift cards
Purchasing physical products
Giving to charitable causes
How To Earn More With ReaderCoin?
The best way to earn more with sites/apps like this is to get referrals.
However, ReaderCoin seems to cap you at 4 invites, which means a maximum referral earning of 600 points (150 points each)
Final Thoughts - Is ReaderCoin Legit?
Thank you for making it to the end of the ReaderCoin review.
I hope it's given you an insight into how to get paid to read books online.
ReaderCoin is a legit app and it's really simple to use, and not only that, but it gives you the incentive to become a more active reader.
However, please note that this app will not make you rich or give you the kind of income to leave your job...
...but it is a nice easy way to earn a little income without doing too much work, and discovering new books along the way.
If you'd like to download this app, click through to your app store below:
If You Liked This Post, You Might Want To Check These Out:
Want To Discover The Method I Use To Earn $100+ In A Day!
---
Let's discuss:
What did you think of this ReaderCoin review?
Do you get paid read books? What other apps/websites do you user earn an income online with books?
I'd love to hear your thoughts, comments and experiences in the comments section below.
---
Did You Find This Post Helpful?
If you found this post helpful, I'd be SUPER happy if you shared it!
​

My goal is to help as many people as possible "make their dreams of success a reality". But I'll need you help to help more people.
Thanks a bunch for your support...you're awesome!
Pin This For Later