18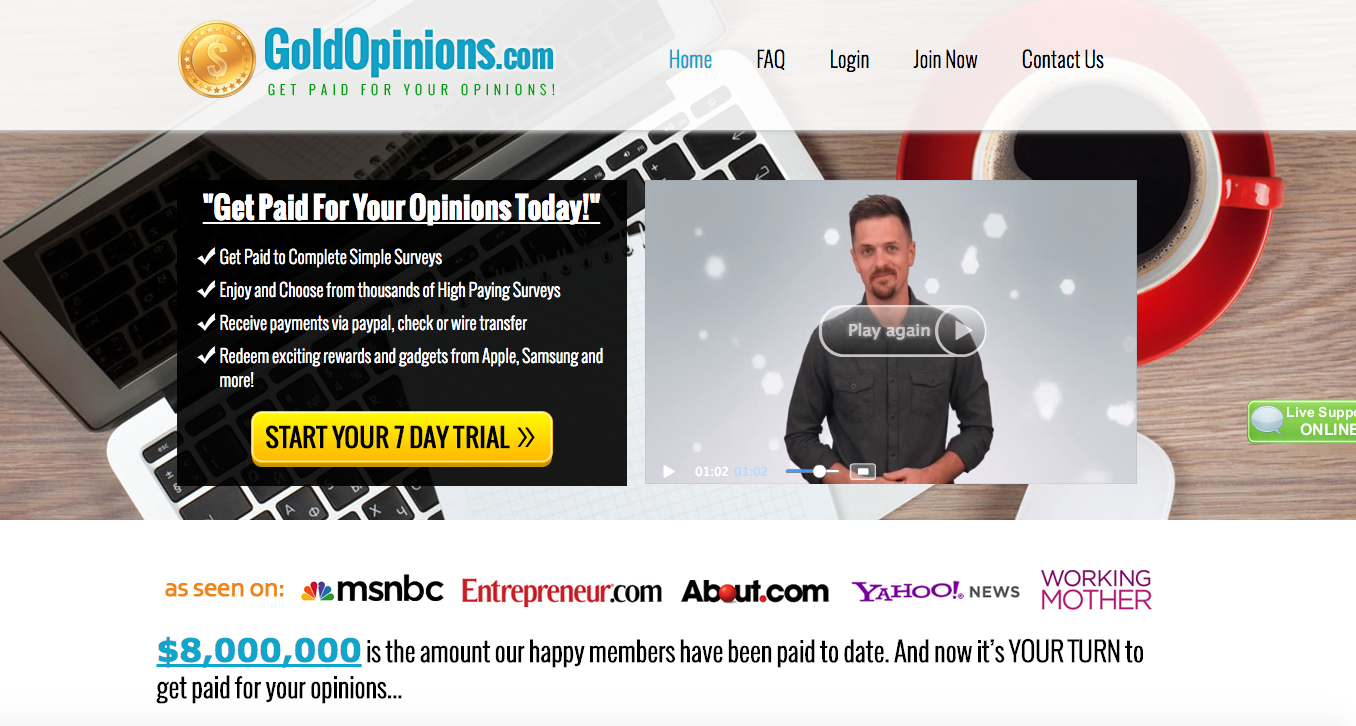 Gold Opinions Review – Here's My Opinion
This post may contain affiliate links. If you choose to purchase something through one of my links, I will earn a small commission at no extra cost to you.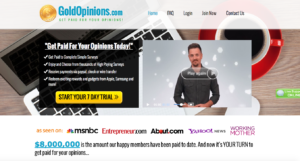 Name: Gold Opinions
Website: www.GoldOpinions.com
Price: 7-day Trial $1, then $27 monthly fee
Owners: Paul Parker
Overall Ranking: 2/10
What is Gold Opinions?
---
Gold Opinions is a program aimed at helping people make money online by taking part in online surveys and focus groups. The website claims that they can help you "enjoy the good life" through taking online surveys.
Misleading Claims
I needed to make a comment on the many misleading claims made on the sales page. If you're someone who's taken online surveys before you'll know that the earning potential isn't that great. I've been taking online surveys for over 1 year, and although there are sites that I recommend, I don't spend a lot of my time taking part because you just don't get paid much per survey.
The sales page claims that you can earn $5 for 10-15 min surveys and $15-$30 for 30-40 minute surveys.
As someone who often takes surveys, most 10-15min surveys usually only pay $0.50 to $1.50, and you'd be very luckily to get $5 for a 30-minute survey. So these claims that they've made are very misleading
Although you can make money online with surveys, you will not be making enough to live on. The site gives the impression that you can "enjoy the Good Life"

They also claim that they can help you make £1000s per month. This is just not possible. It's difficult for most people to even make $100 monthly purely taking surveys. With the amount that you're paid you'd probably have to do a few thousand surveys every month and this alone will be very time-consuming. There are much better methods for making money online in that same time frame.

Yes, $1000 a month solely taking surveys would be awesome, but this is very unrealistic and I don't agree at all with programs like this making such claims to encourage unsuspecting people to sign up.
What's included in the Membership?
---
There are 4 main sections included in the membership and a contact page:
Getting Started
Premium Paid Surveys
Paid Surveys By Country
$400 Sign Up Bonus
Contact Us
Getting Started:
---
Here you'll get a basic walkthrough on taking surveys and a few tips to help you get through the surveys faster.
They recommend using a program called Roboform (free to download), which will be used to help you complete the screening questions faster because your passwords and details will be saved so you won't have to enter them manually for every survey. I think it's a good tip to share, however, it won't make taking the actual surveys any faster.
Premium Paid Surveys
---
There are about 160+ survey sites that they list in this section. Although the list includes many sites that are legitimate, it also seems to lists some sites that don't pay their users. I don't think it's right for them to get you to pay monthly for this service if they can't even provide you with legitimate survey sites which pay its users.
As you go through my website, you'll see that I only review survey sites which definitely pay its users, and I also always like to add payment proof for extra confirmation. I wouldn't feel comfortable encouraging you to try a program when I knew it didn't pay its customers, it's not right.
Paid Surveys By Country
---
Here, you'll get surveys grouped depending on your country. I think this is quite a handy feature to have, and may make it easier for non-US members to find surveys more easily.
$400 Sign Up Bonus 
---
I think the title for this section is a bit deceiving because it gives you the impression you'll immediately get a $400 sign up bonus, however in this section you're just given another list of survey sites that give it's users sign up bonuses. The total of the bonus adds up to about $400, hence the name.
As mentioned before, you can sign up to the survey sites, and get the sign-up bonuses completely free without having to join and pay monthly for Gold Opinions.
Who is it For?
---
This program is for those who are interested in paying someone $27 a month to get a list of survey sites to make money from.
If that's not you then I'm glad to hear it.
I personally cannot agree with charging someone $27 just to access a bunch of survey sites. There's no need to pay for that information.
If you genuinely still want to check out this program I would only suggest that you sign up for the $1 trial, make a note of as much information as you can, then cancel before the 7 days are over.
I believe the information is worth up to $1, but definitely not $27, every month!
Who is it NOT For?
---
This program is NOT for anyone interested in making a genuine full-time income online. This program will not help you make that sort of money online. Making money online from surveys alone is not a job that someone can live off of.
Also, this program is NOT for those who don't believe people should be paying for this information.
Although I like the idea of having a list of survey opportunities in one, easily accessible place, I don't like the idea of being charged $27 for that information, and the owner(s) are still most likely going to profit from referral earnings.
If you continue reading I can list a few survey sites that I currently use and would recommend to others. They're all free to join, and I wouldn't ever charge you to access that information. I also know many bloggers who provide lists of survey sites on their blog and don't ever charge for that information. There's just no need.
Support
---
Gold Opinions seem to offer live chat support, however when I clicked on "live support online" my message was sent to the team as an email rather than as a live chat message. They also have a "Contact Us" section which involves using contact forms.
I've not really had any contact with the support team, so I'm not really able to comment fully.
Pricing
---
7-Day Trial: $1
Monthly: $27
Pros
---
Although I'm not happy with the monthly fee, I do like that you can try out the program for a very low price. If you're interested, then $1 is a very small price to pay for this information, which I do also feel is quite valuable information for that price.
I like that they provided some useful tips in the "Getting Started" module, such as downloading the Roboform software, which is free to download. The software won't make the taking surveys faster, but it can help speed up the time it takes to get through the pre-screening questions.
Surveys Grouped By Country
I think this is a nice feature to have as it makes it easier for members to find surveys that are suitable for their country, and therefore are more likely to qualify for.
Cons
---
I definitely believe the sales pages puts too much hype on how much one can really earn. Yes, surveys can make you money, and yes they're quite easy to do, however, you're NOT going to be earning $1000s a month, nor are you always going to be earning $5 per survey. There will be surveys out there that pay $5, but they're usually very specific, and it can be difficult to qualify. You're more than likely only going to be earning $0.50-$2 per survey.
You've probably gathered by now that the main thing I don't like about this program is that they charge a $27 monthly fee. As mentioned above, the information they provide is, in my opinion, very easily accessible online. You can find countless blogs and websites that list survey sites and focus panels completely free online. Yes, these blogs have their referral link, but you're not losing any money to them, and they're not charging you at all to access the information. Therefore, it's a shame the owner(s) of this program felt it was right to charge others for this information, and especially charge them as high as $27 every month.
As I mentioned before, the information provided is worth the $1, but not worth the monthly fee.
Overall, the sales page is just very misleading. I take surveys quite regularly and I know that the claims they've made on their site are just not true or consistent with real earnings.
For example, below is a screenshot of some of the earnings I made for completing surveys with OfferNation. As you can see, most of the surveys only paid out $0.10-$1.10.
This is a more realistic value of what you'll be earning with surveys.
I also complete surveys through Mintvine, and the screenshot below further shows what you can expect to earn when completing surveys
As you can see from the screenshot above, my most recent survey earnings ranged from $0.40-$1.35. To be honest, $1.35 is one of the higher paying surveys, and they're usually 20-30 minutes long, but I was lucky on this particular occasion and it only lasted about 10 minutes. (Also, one thing I really like about Mintvine, compared to other survey sites, is that they pay even if you don't qualify for a survey, as you can see from the earnings above – see my Mintvine review here)
The reason I'm sharing these screenshots is just to give you a better idea of what you can really expect when you complete online surveys.
For some, taking surveys is a nice way to earn a little extra money, but unfortunately, this program gives you the impression you'll be making a full-time income from it, which is just not true, especially not in my experience, or in the experience of many others. So, please don't believe all the hype.
False Information About How You'll Get Paid
If you head over to the FAQs page, the site gives some false information about how you'll be paid to complete surveys. They claim that you'll get paid "twice a month, every 15th and last day of the month"

This is misleading information because it's not Gold Opinion that pays you, your payment comes from the individual websites that you join, and each website has it's on minimum payment threshold. This means that you need to earn a certain amount before you can withdraw your earnings.
Additionally, not all survey sites will pay in cash/checks, some will only reward its users with gift cards and vouchers. So, unfortunately, the site is giving out misleading information here again.
Their justification for why they charge a monthly fee
Another question came up in the FAQs about why they charge a fee to its members. Having read their response I still do not agree with them charging a fee. Take a look at their response in the image below:

Firstly, they say that they charge a fee so that when you join they won't earn commission from the money you earn taking surveys. If that's the case then I'd rather they earn a commission from my earnings, cause that way I won't be losing $27 to this program every month.
Also, they won't actually be taking any commissions directly from my earnings, the survey site will give them a commission based on how much their referral earns.
For example, if a survey pays out $0.50, the person who referred me might earn something like $0.05 (10%) of that if I complete the survey. Once I complete the survey I'll still earn the full $0.50, therefore, nothing is actually taken away from my earnings.
They're making this claim to give you the impression that they're doing a better thing by charging you, but unfortunately, this is not the case.
Gold Opinions should not be using this as a justification for charging a fee.
Secondly, they also claim that it costs them thousands of dollars to gather this information online. As stated before, there are many bloggers/websites owners online who compile extensive lists of survey/focus group sites, and they do not ask people to pay for access to it. The paid content provided by Gold Opinions is not really that much more different than the free content we see from blogs and websites online.
Is Gold Opinions The Online Program For You?
---
A while ago I wrote a post on how to find the best "make money online" program for you. Below is a table of questions that I personally use to decide if a program is going to be right for me. Although I know I would never pay for a program like this, I thought it would still be a good idea to summarise Gold Opinions against those questions.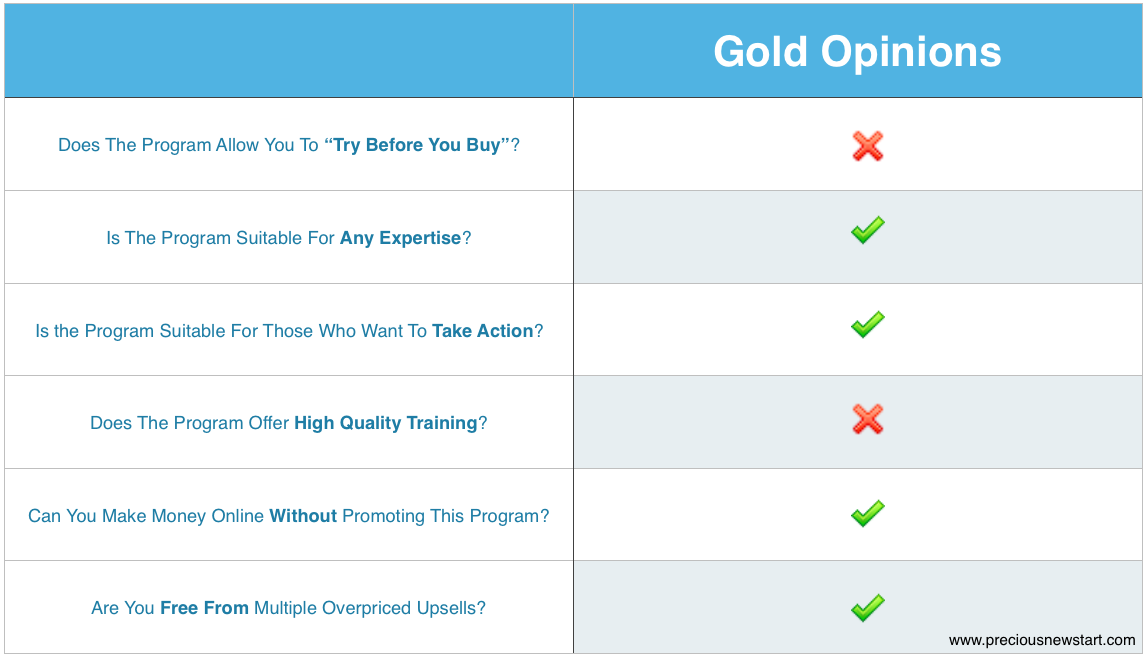 Although Gold Opinions allows you to try the program for $1, my question really relates to programs that offer a free trial. Additionally, I didn't find that they had very good training, but that's mostly because there's not much training that can be involved in taking online surveys. They did provide a few tips, but as explained before, a lot of these tips are easily accessible online for free.
Overall, Gold Opinions is definitely not a program for me. Although it ticked a few boxes, I just don't feel it is a program of value, and I don't like how they encourage people to pay a monthly fee for such as program. You may have a different view, but I just wanted to share my personal opinion and thoughts on the program.
My #1 Recommendation
---
I'm an active member of Wealthy Affiliate and I personally like to recommend this program because it provides you with a training platform that allows you to learn how to earn an income online through Affiliate Marketing. It gives you access to the right tools and training to help you get started.
Wealthy Affiliate offers a different service to Gold Opinions, but I wanted to share it here because I think it's a program that will benefit people looking to make an income online. Affiliate Marketing gives you the opportunity to earn a real full time or part time income online without spending hours completing surveys. You can focus on things you enjoy, and Wealthy Affiliate helps you achieve that.
To be honest, I could go on about Wealthy Affiliate for ages, so it's better for you to just take a look at the comparison table below and read my review here.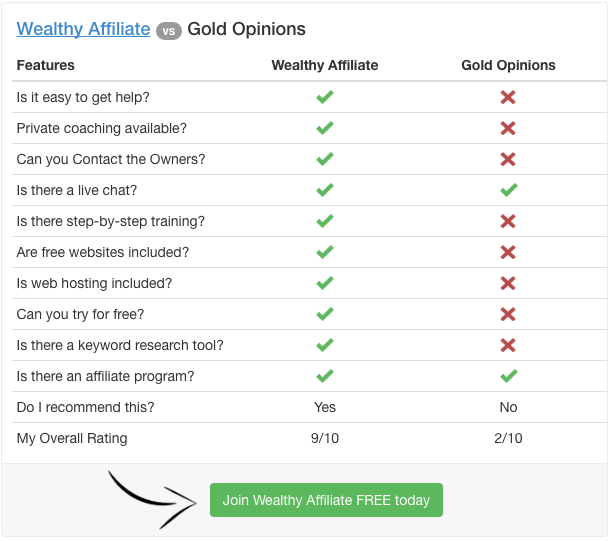 Looking for legitimate survey sites?
---
If you're looking for some legitimate survey sites to join then below is a list of some that I personally recommend and use often. I've written reviews on a few also, so you can get a better idea of what they're about:
Final Words
---
You can probably tell that I don't personally recommend this program. Essentially you're paying for a program to give you access to surveys that are readily available online for free.
I don't mind that there's a site out there that lists all the recommended survey/focus group sites, however, I don't think it's fair to charge a monthly fee for it. There are lots of blogs online that list lots of surveys, completely free, so there's no need at all to have to pay a monthly fee.
I think you'd be better of searching on Google for blogs that list legitimate sites rather than signing up to this program.
However, if you'd still like to join then I would only recommend that you sign up for the $1 trial, make a note of all the information, then cancel your membership before the 7 days are finished.
If you'd still like to give Gold Opinions a try for $1 – click the button below:
OR
You could get started with my #1 recommended online business training program – for FREE
---
Have you tried Gold Opinions? What have your experiences been? What are your thoughts on online surveys? Do you recommend any legitimate survey sites for readers to join? Please feel free to leave your responses and/or questions in the section below