10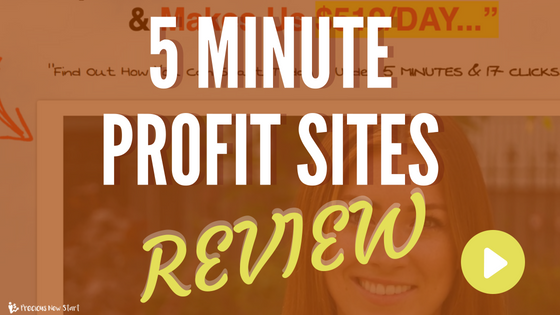 Five Minute Profit Sites – Insider Look + 5 Reasons It WON'T Work!
This post may contain affiliate links. If you choose to purchase something through one of my links, I will earn a small commission at no extra cost to you.
In this Five Minute Profit Sites review, we're going to be taking a deeper look into the system that claims you can earn $500/day, and discover the real truth about whether it's a legit program or just another waste of time scam.
Product Name: Five Minute Profit Sites
Website:www.FiveMinuteProfitSites.net
Price: $37 + Upsells
Owner: Sam Smith in the sales video, but no real confirmation of this
Rating: 2/10
Launch Date: June 2018
Recommended: No
More...
What Is Five Minute Profit Sites?
Five Minute Profit Sites (FMPS) is a platform which claims you can earn $500/day using their "done-for-you" software, which builds websites and exploits a $12.3 million loophole.
Right away you're bombarded with some crazy income figures, however, these results are definitely not typical for any new site, especially after just 5 minutes.
I bet you're wondering, what's the real truth?... Don't worry, you'll find out soon enough.
Five Minute Profit Sites works on the money making method of Affiliate Marketing.
The goal is for you to build a site, connect it to a Clickbank product, and set up your Email Marketing service, then drive traffic to the system.
Below, I'll share with you 5 reasons why Five Minute Profit Sites will not work, despite all their big claims.
5 Reasons Why Five Minute Profit Sites Won't Work?
1) Unrealistic/Fake Income Claims
Unfortunately, the income claims shared on the sales page/video are highly unrealistic.
There's no way a new site can start generating $500/day after 5 minutes of being built by an automated software.
Yes, you may get a site set up in 5 minutes, but you won't start generating any income right away. It'll definitely take some time to develop a site that generates a substantial income.
Not only that, working 23 minutes on a site like this is also not going to yield any positive results. Instead, you're just going to be really disappointed.
Plus...
I noticed on one of their income screenshots, the income report was for their sales as a vendor, and not as an affiliate.
So they're sharing fake affiliate income reports!
2) Not Enough Training On Traffic
As you can see from the screenshot above, you will get some training on traffic, however, the traffic method you'll be encouraged to do is Solo Ads. If you're not familiar with Solo Ads, they're basically a paid method of gaining traffic, via email marketing.
You need to have an ad spend budget in order to make money using Solo Ads.
So if you're a beginner and you don't have the funds, then you won't be able to make use of this traffic method.
Other traffic methods listed are free, but some of them are a little outdated.
One of my recommended ways to generate quality targeted traffic, is through Search Engine Optimisation (SEO).
Using this tool, I'm able to rank on the 1st page on search engines, which means, people are able to find my content through sites such as Google and Bing.
3) Your "5 Minute" Website Is Just A Landing Page
After researching and going through the program, I found out that the website you'll be creating is a simple landing page with a sales video and an opt-in button.
You won't actually be building a site that has quality content, it's just a site for you to capture emails and direct your visitors to a Clickbank affiliate product.
You won't be building a niche site or an authority site.
When you think of it like that, it's no wonder the site only takes about 5 minutes to build!
4) Sites Are Hosted On Their Servers
The sites you build will be hosted on the FMPS servers.
In fact, when you click through the sales page button, they claim that the license for the software is free, and the $37 is to be able to host your sites on their servers.
Essentially, if anything happens to FMPS, then your site will be gone too, and you'll have nothing to work with.
I've had something like this happen to me when I had my blog hosted on the Empower Network platform. When they shut down, my site was shut down too.
If you're looking for a platform to host your landing page sites, without worrying about the program shutting down, I recommend using a hosting provider such as Namecheap, and the Thrive Architect or Elementor Landing Page builders.
5) Need To Have An Aweber Account To Build Your Site
Ultimately, if you don't have an Aweber account, or you don't have the funds to sign up, then you won't be able to move forward to building your site.
​

As you can see from the screenshot above, you need to connect an Aweber form code in order to set up the email marketing portion of your site.
There's no option to include other email marketing services, so if you're not an Aweber account holder, then this FMPS system will be a complete waste of money and time.
Unfortunately, they don't mention this in the sales video, so unless you purchase the program, you won't know this information right away...Then, in the end, you're stuck!
Upsells
There are a few upsells included after you purchase the Five Minute Profit Sites system:
Upsell 1: FMPS Faster Profits ($197)
Upsell 2: FMPS Double Your Profit Sites ($187)
Upsell 3: Traffic Tsunami ($97)
Pros
Cons
Is There An Alternative?
Yes!
As a Wealthy Affiliate member, I believe this is the best alternative for anyone looking to make money online through Affiliate Marketing.
You don't get any overhyped sales page or unrealistic income claims.
Here are a few of the high-quality tools you get access to in Wealthy Affiliate:
Keyword tool
Web hosting
Blog content tools
Domain registration
Step-by-step training
Support from WA team and WA members
...and lots more!
As you can see, you get access to a TON of features to help you build a successful income and business online with Affiliate Marketing.
Take a look at my comparison table below:
Final Thoughts
There are a lot of red flags in this Five Minute Profit Sites system, and I believe it doesn't offer anyone a sustainable way to earn an income online and build a business.
Their quality of the training doesn't give me hope that a beginner can make money online with this system.
The only 2 people likely to be making any money with this is the owner of the system, and the Clickbank affiliates promoting it.
Unfortunately, Clickbank is allowing many of these "systems" onto their platforms, which is a shame, as they're one of the most recommended affiliate networks.
But don't despair, there are still many honest products available on their network.
If you're looking for a legitimate, honest, and realistic alternative, then I definitely recommend Wealthy Affiliate. It's free to join, and you don't have to put in any credit card information.
You get access to a wealth of training, and in-depth guides on generating high quality targeted traffic, totally free.
Want Access To The Best Affiliate Tools?

Enter Your Best Email To Download The "Super Affiliate Marketers Toolkit"
​

What are your thoughts on Five Minute Profit Systems?
Have you purchased this system? What are your results with it?
I'd love for you to join the discussion and share your thoughts, questions and experiences in the section below.