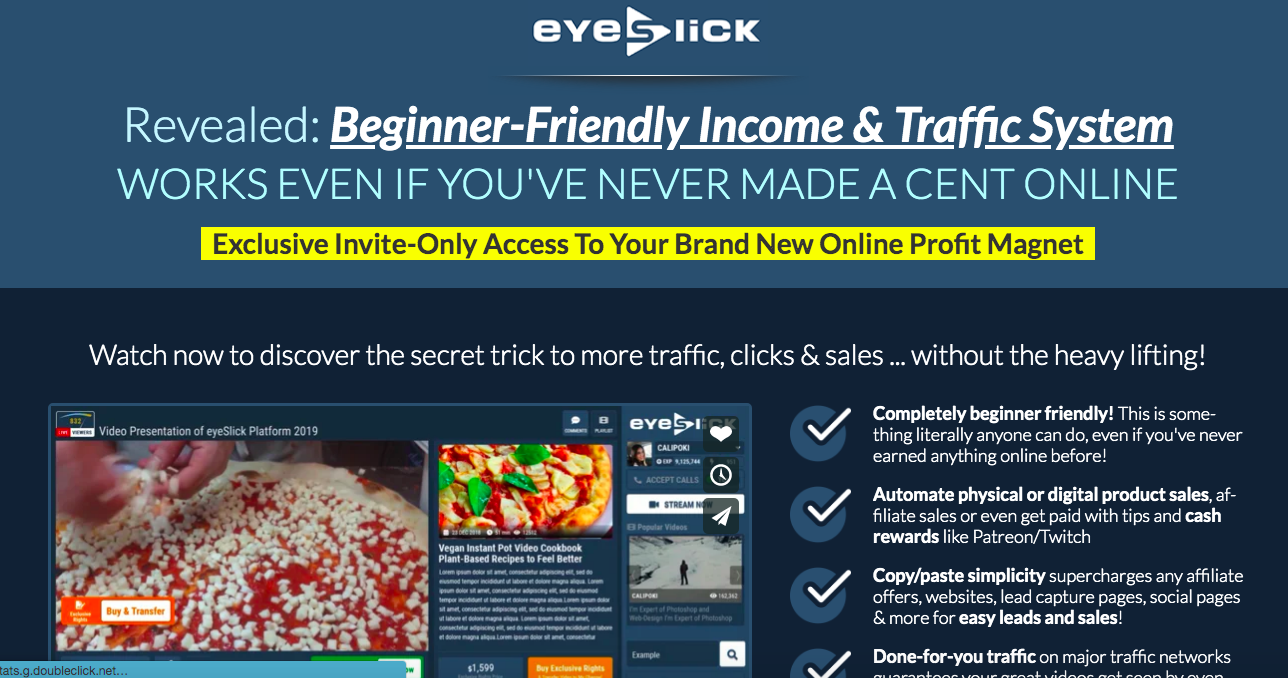 EyeSlick Review – The "Secret" To Profiting With Social Media?! [INSIDER LOOK + DISCOUNT]
This post may contain affiliate links. If you choose to purchase something through one of my links, I will earn a small commission at no extra cost to you.
Welcome to my honest EyeSlick review.
Imagine a completely beginner friendly platform that lets you automate digital and/or physical product sales, affiliate sales and even getting paid with tips and cash rewards like Patreon/Twitch!
The platform I'm about to share with you today appears to be changing the future of how you use social media.
In fact, can you believe that this platform is potentially so powerful that they received $1 million in VC funding before the launch went live?!
By now I'm guessing you want to know "why", right?
Well, this platform uses a method called 'vTail'...and if you are wondering 'what on earth is vTail?!', no worries.
It's a play on the words 'video retail'.
vTail allows you to create or curate a video, and sell your viewers something from right inside the platform.
Introducing EyeSlick...
This revolutionary new platform takes the power of eCommerce and video and marries them together in a way that has never really been seen before.
So, if this looks like a platform for you, then congrats on making it here, and I look forward to sharing my honest findings with you.
Now, let's not waste any more time and I'll help you uncover the truth...
Product Name: EyeSlick
Website: www.EyeSlick.co
Owner: Cindy Donovan + Kim Torrefranca
Price: From $24.97 + UPSELLS
Rating: 60/100
Type of Product: Video Marketing + Product Selling
Launch Date: 19th August 2019 to 26th August 2019
Verdict?: Legit ​
More...
What is EyeSlick?
EyeSlick is a revolutionary new video social platform with inbuilt eCommerce functionality.
This platform gives you the opportunity to stream live video from your:
Computer
Mobile device - using their iTunes/Google Playstore apps
Uploaded prerecorded videos
Imported videos from Youtube
How Does EyeSlick Work? [+ DEMO]
As an EyeSlick user, there are a 2 main ways to make money with this platform. You can:
Selling physical or digital products from your channel
Provide content and get paid when people donate and reward you - similar to sites like Patreon and Twitch.
Why not take a look at the video demo below which shows more of EyeSlick in action:
EyeSlick Pricing + Upsells
Here's a breakdown of the pricing of EyeSlick and the upsells that are included:
EyeSlick (Front End) - $24.97-$47
This is the main platform you'll be using to turn your simple videos into potentially automated money making pages.
NOTE: EyeSlick owners are limiting sales to 10,000 bundles. This means, once its gone...it's gone! So make sure you get it on time.
Upsells (OTOs):
OTO 1:
vTail Manifesto ($67)
Extra training and done for you resources
OTO 2:
EyeSlick VIP ($197 one times or $67/m for 3 months or $37/m for 6 months)
Channel will be permanently upgraded to pro-status
OTO 3:
vTail Overflow ($297)
Extra 3% of the revenue (so 8% total) and 20% discount on purchasing future invites.
If you were to purchase all the upsells at full price, along with the full EyeSlick platform, you could be spending over $500+.
Although these upsells are optional, and not needed to make the main software work, I just wanted to make you aware of potential extra costs.
EyeSlick Bonuses
Here is a look at the bonuses included automatically when you purchase EyeSlick:
BONUS #1:​

Agency Licensing

BONUS #2: Inbuilt $10 Cash Rewards
BONUS #3: Channel & Traffic Training
EyeSlick Insider Look
I was able to have an sneak peek into the platform, and below are a few screenshots to show exactly what's on the inside:
The Good...
The NOT So Good...
Despite this being a legitimate platform and a legitimate way to potentially make money online with video, there are a few things missing from this that I'd like to touch on.
Final Thoughts + EyeSlick Discount
Thank you for taking the time to read through this EyeSlick review.
I hope this review has given you more insight into ​EyeSlick and how it can potentially be a method to earn an income online.
I believe there is potential in this platform, and it has the ability to make it easier for users to earn with video and eCommerce.
However, Youtube is still a viable method for earning an online income, and I think it's an easy and affordable way to start online, if you're interested in video marketing.
Despite this, if EyeSlick is a platform you'd be interested in, then you can click here for more details & access to my EARLY BIRD discount code.
---
Want To Discover The Method I Use To
Earn $100+ In A Day?!
---
Let's discuss:
What did you think of this EyeSlick review?
Do you think EyeSlick is the future to profiting with social media?
Are you already using video and eCommerce in your business? What has your experience been?
Will you be adding a platform like EyeSlick to your option of ways to make money online?
I'd love to hear your thoughts, comments and experiences in the comments section below.
---
Did You Find This Post Helpful?
If you found this review post helpful, I'd be SUPER happy if you shared it!
​

My goal is to help as many people as possible "make their dreams of success a reality". But I'll need you help to help more people.
Thanks a bunch for your support...you're awesome!