2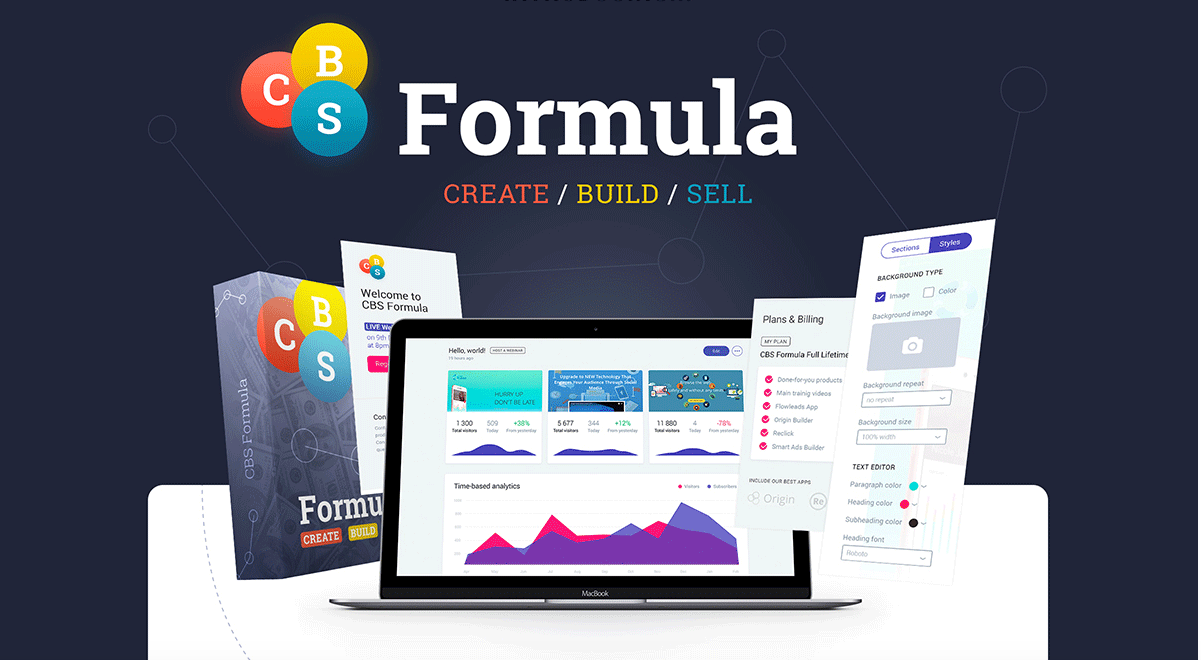 CBS Formula Review – Is This The Secret Method To Earning $500/Day?
This post may contain affiliate links. If you choose to purchase something through one of my links, I will earn a small commission at no extra cost to you.
There's a "hot" new product launch called CBS Formula and now it's time for me to share my CBS Formula review. In the days leading up to the launch, I was eager to find out more about the program and figure out whether it is a good training program for starting an online business. 
---
Name: CBS Formula
Website: www.CBSFormula.com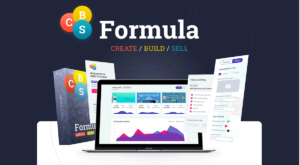 Pricing: $69 + upsells
Owners: Precious Ngwu, Damon Nelson and Emi Nelson
Rating: 6/10
Launch Date: 16th January 2017 @ 11am EST/4pm GMT
What is CBS Formula?
---
CBS Formula is a program that aims to help people make big sums of money by selling products online.
CBS stands for CREATE, BUILD, SELL
C

reate a product

B

uild an email list

S

ell the product to the email list
The program aims to provide you with all the tools and resources you need to make autopilot income with their "system".
As a member of the system, you'll be provided with a number of training videos which will teach you about different areas of selling.
The program is supposedly able to work for any niche and makes promises that you can make $500-$1000/day within 7 days of using the program.
That's quite a big claim!
I'm not sure how possible it really is to be able to make that amount of money in such a short space of time, using this "system". In my experience online, it takes a while to be able to earn that kind of money regularly, and also involves a LOT of work.
Although their sales page claims sound too good to be true, having had a brief sneak preview of the program I think it offers value and is worth considering as a training program. As you read my CBS Formula review, you'll find out more about it and whether it could be the right program for you.
How Does It Work?
---
The whole focus of the program is to show you how to make money selling. The owners of the program believe that the most important factor to being able to achieve 4 figure days online is to start selling something.
So they work on helping you figure out what to sell, and how to sell it.
Who Are The Owners Of CBS Formula?
---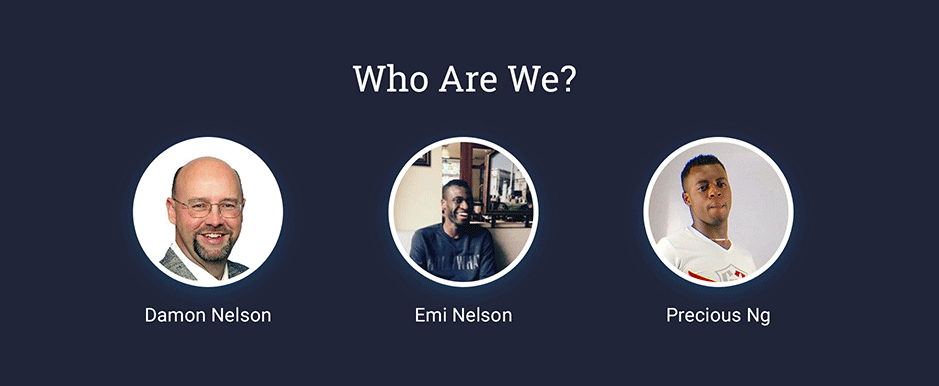 These are the 3 people behind CBS Formula:
Precious Ng – The creator and co-founder of CBS formula.
Damon Nelson – The chief trainer. He is the man in the training videos, and he's the person that will be teaching you how to make money with this formula
Emi Nelson – Co-founder of CBS Formula
What Is Included In The Training?
---
If you choose to sign up to CBS formula the training works towards showing you how to pick your niche within minutes, how to create products that people are hungry for and ways to build an email list that you can share your products with.
The sales page provides a lot of information about the things you can expect to learn from CBS formula.
I was able to have a sneak preview into the program and here's a breakdown of the training currently available within CBS Formula:
Create a Product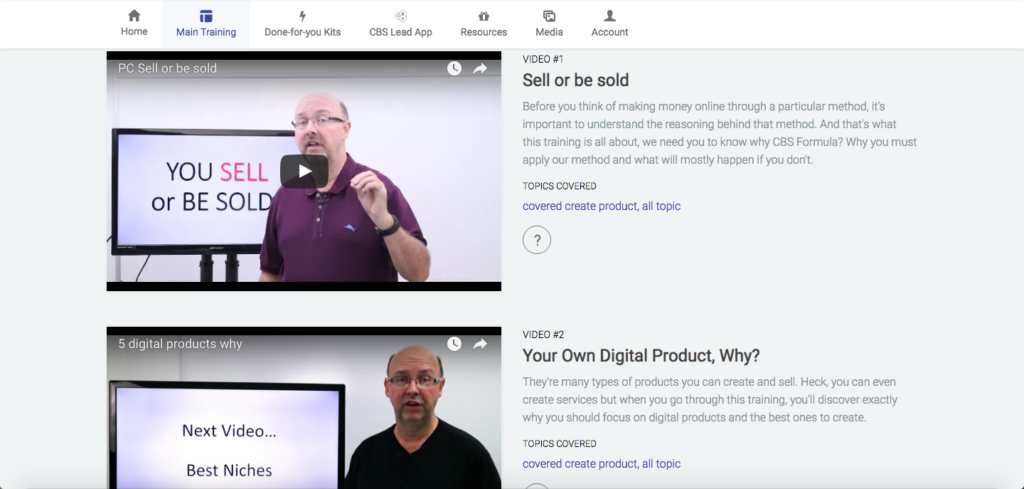 Here you'll learn:
What types of products you should create and why.
Ways to discover your niche and what to sell within that niche
How to create your product model depending on your niche.
How to create a "hot selling" product in under a week
Build Your Audience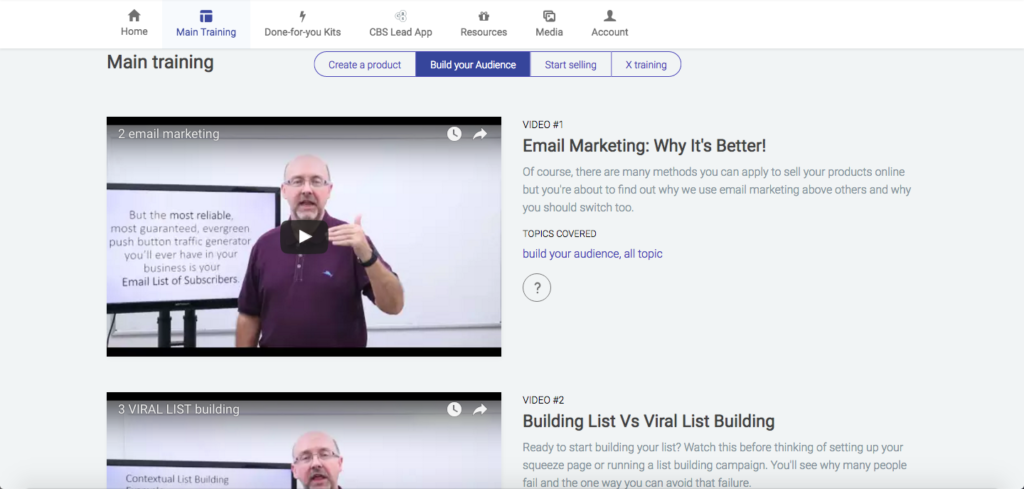 In this section you'll learn:
Email marketing and why it's important
How to build your list fast (Viral List Building method)
Start Selling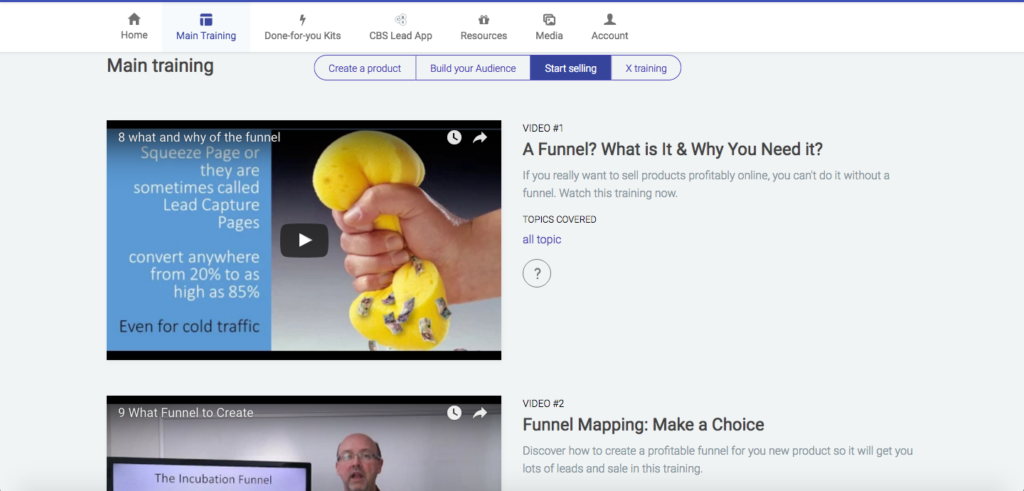 This section will teach you:
What a "funnel" is, and why it's important
How to buy "reliable" traffic
The simple tweaks to add to your sales page that should help you close more sales.
Bonus Training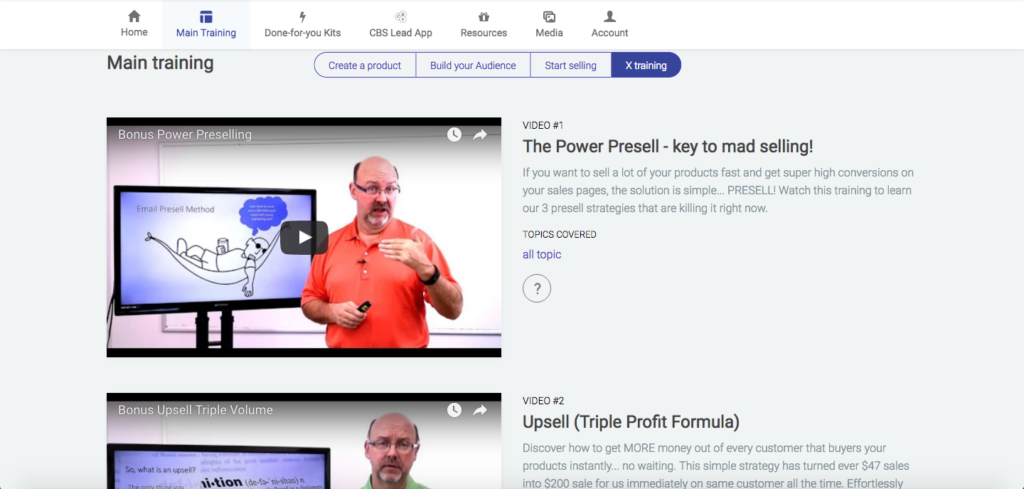 Here you'll get some bonus training about Preselling and Upselling
Note: I did notice that some of the training videos I watched said they would offer additional resources alongside the video, however, I did not find them anywhere in the back office. I can only imagine it's because they are still in the launch phase of the program. I've sent an email via the contact form regarding this and will update if I hear any news.
[alert-announce]CBS Formula are holding a LIVE Webinar on 19th Jan 2017, 3pm EST/8pm GMT. This is your opportunity to learn even more about the program and see how it works[/alert-announce]
Tools and Resources
---
"Done For You" Kits
CBS Formula offers a collection of "done for you" kits that you can use for your niche site. There are only a few niches they have catered too, but it's interesting to see that they have included this in the program.
With the "done for you" kits, you get ready-made sales pages which you can start promoting early on. There's a feature to download an ebook, a sales page, email swipes and a sales video. I wasn't able to see the examples of this, so I am unable to comment on the quality of the sales page at this time. The image below gives you an idea of what you can expect from one of these kits.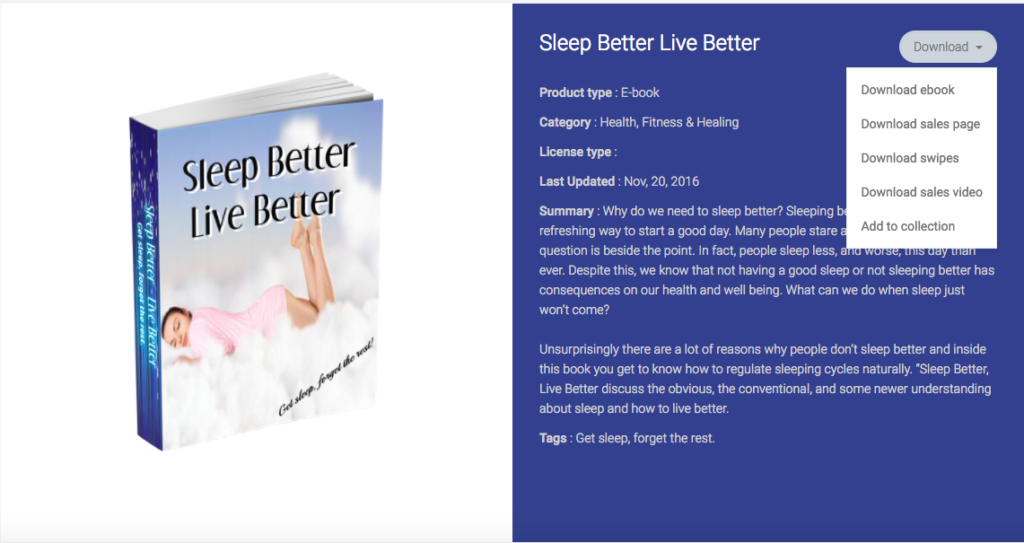 CBS Lead App
This app has 2 parts:
Campaigns
This is where you'll be able to track the stats for your sales funnels/campaigns. You can see which funnels are performing well and which are not. You're also able to see what the conversion rates are for each funnel page. I believe this will allow you to tweak your pages in order to improve them and hopefully encourage more sales.
2. App Training
In this training area, you'll learn how to use their viral lead software, and integrate it with your autoresponder. You're also taught how to launch your campaigns and track their progress.
Resources
All the resources in this section are currently FREE when you join the CBS Formula program. They include:
Skype session with one of their STAR students – You can connect with one of their students who has supposedly been able to earn $500,000 since 2016 using the CBS formula.
Origin Website Builder – You'll have access to a "powerful" drag-and-drop WordPress website builder which you can use to create sale pages for your campaigns. In order to make use of this builder, you would need to have a WordPress site to install it.
==> You could easily create a FREE WordPress site by clicking here, or if you're interested in a self-hosted site, iPage are doing affordable deals starting from $1.99/month <==
[alert-success]You May Like This: Self-Hosted Blog vs Free Blog: What's The Difference?[/alert-success]
ReClick App – This app aims to help you grow your email sign ups and sales conversions by allowing you to embed professional pop-ups to your page and analyse the stats. To find out more about this app, click here.
Smart Ads Builder – This ad builder allows you to create Facebook ads that are "proven" to convert.
Lists of Product Creators, Sales Video Producers and Copywriters – They provide their personal list of people they've worked with in these areas, and the creators of CBS formula have even rated them in terms of price and quality, making it easier for you to find the right creator for your product.
Email Swipe Campaigns – Precious and Emi share with you the email campaigns they used to generate $50,000 in sales. The email swipes are downloadable so you can copy, paste and edit them to suit your niche.
Pricing
---
CBS Formula (Main Product) – $69-$99
CBS Kickstart (Upsell 1) – $97-$127
CBS Lead Machine (Upsell 2) – $147
CBS Millionaire (Upsell 3) – $99
Agency Pack (Upsell 4) – $297
These are the upsells currently offered within the CBS Formula program. Unfortunately, I don't have full information on each of these programs to know what's included, but once I do I'll update this page.
Support
---
There is the option to contact Customer Support for questions relating to products, service requests and billing. There should also be a Facebook group where you can interact with other members, however, the link does not currently work and I am not able to find the group manually. It's likely this may be a feature added post-launch phase.
Precious Ng is available to contact via Facebook and all the owners provide their skype usernames too, so it appears they are all quite easily accessible for additional support.
Pros
---
FREE Access To Additional Resources
Some of the additional resources would normally cost between $67 – $97, so it's good that they've included those apps and software into the main program for free, such as Origin Builder and ReClick App.
A FREE list of product creators, and email swipes which you can use for any niche
The program offers FREE lists of product creators, sales video creators and copywriters, as well as email swipes, which you can utilise for any niche

LIVE Webinars
CBS formula aims to offer regular live webinars. The first webinar will be on 19th Jan 2017 3pm EST/8pm GMT
30 Day Money Back Guarantee
If you decide you no longer want to be part of the system and want a refund you have 30 days to do this. Although they offer this, you do have to prove that you applied the system and didn't make any money.
If you can prove this there are 2 options they'll give you. The first is to review your campaign and help you get results, and the second is to refund you and give you an extra $100 for wasting your time.
I like that they have offered to help you with your campaign to get results. I feel this shows they believe enough in their product that they'll go through your campaigns with you personally, to get the results your desire.
The Main Sales Video Offers a LIVE Demo Video Of Earnings
I like that the owners have included a live video of them earning money on the sales page. I had a look at the video, and although it was brief, you could see that they were able to make money with their work. However, I did notice that they send an email out to a current list of 60k. Unfortunately, this doesn't show how things would work for a beginner, but I guess it shows the potential of the program if you go through the training.
Can Contact The Owners
I like that you can contact the owners via Skype and/or Facebook. I genuinely feel more confident in a program when I can see who the owners are and I can contact them for further help.
Cons
---
No Free Trial
CBS Formula doesn't offer a free trial, or a way to test out the program for a small cost, e.g. $1.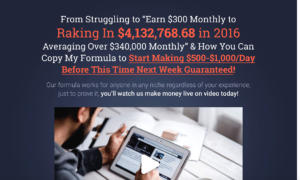 Big Claims About How Much Money You'll Make
The creators of CBS formula seem very sure that their program can help you earn $500/day within 1 week. I'm not sure how possible this is with the program, but I don't think most people will achieve this result so quickly. Therefore I think this claim is quite misleading.
No Training On How To Start A Website
There's no training on how to start a website, such as a WordPress site. Although they talk about the Origin site builder, you need to have a WordPress site in order to actually install and use it. So I'm surprised they left out this information, especially if they're targeting beginners for this program.
Is CBS Formula The Best Online Program For You?
---
If you're looking for an online business training program, you may be wondering if CBS Formula is the best online program for you. I think it offers some quality training and you'll learn how to create, build and sell a product of your own.
In a previous post, I had a look at 6 simple ways to find the best make money online program for you and below is a table I use to personally help me decide whether a program like this is worth joining.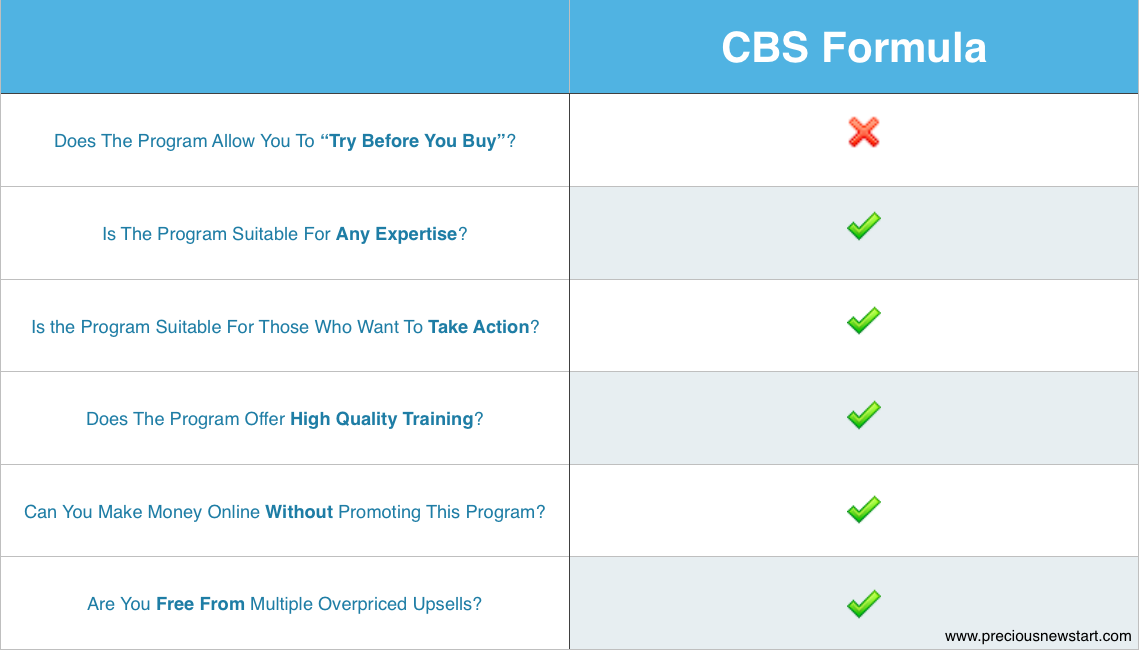 So, in this instance, CBS Formula doesn't tick all the boxes for me. These are just my deciding factors, they may be different for you, but I still think it's worth seeing whether the program really fits your needs. Hopefully, my in-depth review has given you the opportunity to make an educated decision.
CBS Formula vs My #1 Recommendation
---
I feel CBS Formula has a lot to offer and would work well for some people. However, if you've concluded that this program is not for you, and you're looking for an alternative, then I want to introduce you briefly to my #1 recommended online training program.
I am an active member of Wealthy Affiliate, and I feel it provides SO much value. It teaches you can how to create your own affiliate marketing business, for less than $50/month. You can even get started with a FREE membership. I could easily talk about Wealthy Affiliate for ages, so it's probably better for you to just check out my comparison table below and read my review here.

SPECIAL WEALTHY AFFILIATE BONUS
If you join me at Wealthy Affiliate, as a special bonus you'll get your first month for only $19. That's over 59% discount. It's a great way to really test out the premium membership and see if Wealthy Affiliate is for you.
However, you can always get started with the FREE membership first.
My Final Thoughts
---
Overall CBS Formula sounds quite promising, and it's fairly priced. Having had a sneak preview of the back office I feel this program offers value as well.
I like that they share ways you can create a product and give you most of the tools to need set up your funnel and start selling right away. Furthermore, you can contact the owners.
However, I feel they could include some additional training videos such as showing you how to start a website and install the origin website builder for sales pages etc. I feel that there are a few vital videos like that missing from the training, so it would be nice if they can consider including these videos post-launch.
Is CBS Formula the secret method to earning $500/day? I'm not sure!
It is possible that you could eventually start making that amount of money if you work hard and stay dedicated,  but that's like with most things.
In regards to making $500/day within a week of using this "system", then I do not think that will be likely.  Claims like that  give a false impression, and makes the program look less genuine.
Overall, I hope that my CBS Formula review has given you a better view of what is included and how this program may be able to help you if you are eager to join. If you're really interested in joining, why not download their FREE eBook and sign up for the LIVE webinar to get a feel for what they're program is like. It may give you some additional understanding and help you better decide if it's the program for you.
So, if you'd like to try out CBS Formula, click the button below to download the FREE ebook and sign up for the LIVE webinar 
OR 
If you'd like to join my #1 recommended program for online business training, click the button below:
---
Note: This review is based on the pre-launch version of the CBS Formula product. I may update this review when/if there are any significant changes to the program post-launch phase. 
---
What are your thoughts on the CBS Formula?
Have you tried it already? What results did you get?
Share your thoughts, comments, opinions and experiences in the section below.