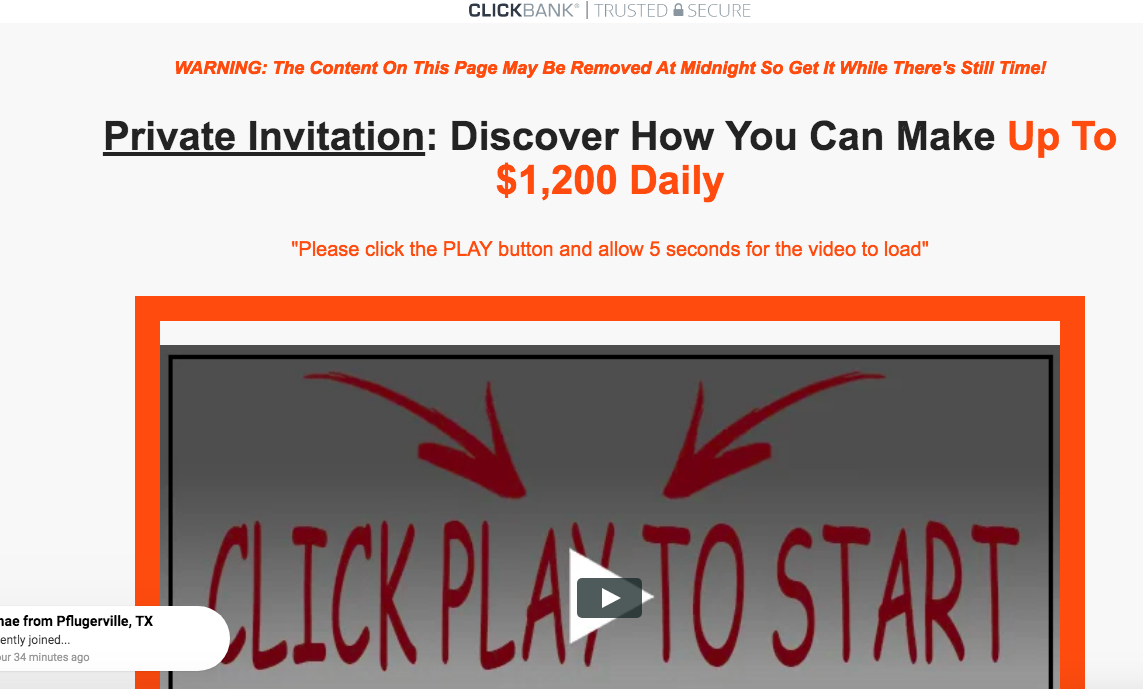 BoostPro Review – Scam Or Legit?! (The #1 Reason To STAY AWAY!)
This post may contain affiliate links. If you choose to purchase something through one of my links, I will earn a small commission at no extra cost to you.
Welcome to my BoostPro review.
Imagine you were given the chance to earn $80K a month!!
That would be the ultimate dream come true right?
But wait...haven't we heard this before?!
The truth is, yes we have heard this before...because BoostPro isn't a product at all!
It is simply a website with the sole purpose of promoting a different online scam! (One which I have reviewed on this site previously)
Want to know more?
Join me in uncovering the shocking truth...
Product Name: BoostPro
Website: www.BoostPro.online
Owner: "George Patterson"
Price: $32 UPSELLS
Rating: 10/100
Type of Opportunity: Affiliate Marketing
Recommended? NO
More...
What Is BoostPro?
BoostPro is a website/funnel created with the sole purpose of promoting another "product", the CB Cash Code system.
The sales video reveals this, and it's clear right away that BoostPro isn't a product at all.
How Does It Work?
Based on the sales video, it appears that you'll be learning how to make money online with Affiliate Marketing and Clickbank.
Affiliate marketing is a method of promoting other peoples products and earning money when that product sales.
Clickbank is one of the biggest affiliate market places online and is one of the recommended places for new affiliate to start when looking to make money online.
But, as BoostPo is basically the CB Cash Code system, it's not 100% clear what kind of training and tools you can expect in the members' area, other than an over glorified eBook!
Is BoostPro A Scam? The #1 SHOCKING Truth...
The fact that BoostPro is a website/funnel designed to only promote the CB Cash Code, proves that it is just another online scam with the intention of only taking your hard earned cash.
1. BoostPro Doesn't Exist!
Ultimately, BoostPro doesn't even exist!
It is just a funnel system that being used to promote the online scam "CB Cash Code".
As you watch the sales video, it's clear that the video is the exact same video used to promote the CB Cash Code.
==> You can read more about CB Cash Code here.
To keep things short, here are a few more reasons why BoostPro is a scam and won't give you the tools to support it's claims
Misleading & Overhyped Claims - The system makes claims of $80k a month, which is completely unrealistic, especially for beginners.
Glorified eBook - CB Cash Code is simply a glorified eBook, and you will not get all the tools and training you need in this ebook. As BoostPro promotes CB Cash Code, therefore they offer the same product
Fake Testimonials - Just like CB Cash Code, the testimonials are exactly the same and completely fake! They are just paid actors hired from Fiverr
Hidden Upsells - Not only do they hide the cost of the system on the sales page, but they also hide any upsells. I was able to discover that affiliates can earn up to $243/sale, at 60% commissions, which means you could be spending over $400 for the full platform. Not just that, but there are 1-click upsells...and if you've come across the blog I wrote regarding this sneaky tactic, it's basically a way to get users to click once and spend extra unknowingly. It's a sneaky tactic which could see customers spending more money that they expect.
Get access to the biggest online community of Affiliate Marketers discovering how to make money online the right way...1.4M and counting
Pros
Cons
Final Thoughts
Congratulations on making it to the end of this BoostPro review, and thank you for taking the time to read through it.
So, what's the verdict...is BoostPro A Scam?
Unfortunately, yes this product is a scam!
It simply promotes the CB Cash Code system which is ultimately a glorified ebook. This product will NEVER give you the tools and training to earn $3,000 a day or $80k a month, in a short time, as they claim.
Sadly, more and more products like this are making their way onto Clickbank.
This means any of you looking for a legitimate "make money online" opportunity needs to be extra vigilant and continue to do your research.
That is why I'm determined to write reviews like this to help users like you find the best, legit opportunities online.
Final Verdict: NOT Recommended
Tired of Scams?! Here's Something That's Working For Me...
If you're tired of scams, I want to share with you how Affiliate Marketing has been working for me, and countless others.
Affiliate Marketing has allowed me to earn income results like this...
Want to discover more?!
...then you should click the GREEN button below to get access to my FREE guide to making money online.
---
Let's discuss:
What did you think of this BoostPro review?
What are your thoughts on Affiliate Marketing and Clickbank?
Are you already earning with Clickbank as an affiliate? What are your tips for aspiring affiliates?
I'd love to hear your thoughts, comments and experiences in the comments section below.
---
Did You Find This Post Helpful?
If you found this post helpful, I'd be SUPER happy if you shared it!
​

My goal is to help as many people as possible "make their dreams of success a reality". But I'll need you help to help more people.
Thanks a bunch for your support...you're awesome!