2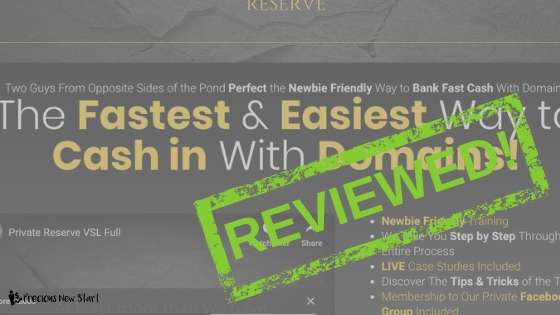 Welcome to this Private Reserve review.
Have you ever thought about being able to make money by flipping domains?
Whenever you search for ways to make money online, you're usually given a few options, such as, Online Surveys, Affiliate Marketing and eCommerce.
But what if there was another way to profit online?
Private Reserve claims to have the training you need to help you make money by flipping domains online.
But is it really true?
Can Private Reserve really show you how to make money this way?
The fact you're on this page shows you're interested in discovering the truth, and wondering if it's really worth it.
If that's the case, then I want to say "well done". It's important to be able to research any online opportunity before you invest any money.
So, let's waste no more time in unravelling the truth...
Product Name: Private Reserve
Website: www.Phlos.net
Owner: Trevor Carr and Lance Groom
Price: $9.95-12.95 + UPSELLS
Rating: 6/10
Type of Opportunity: Domain Flipping
Recommended? YES (only if you like this business model)
Continue reading