13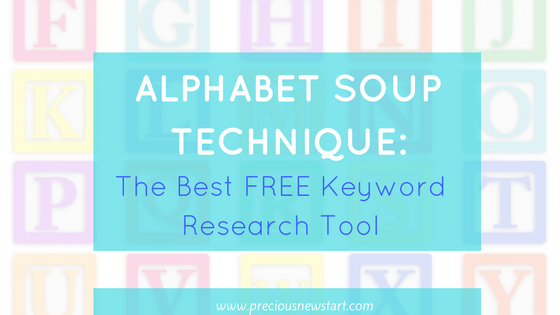 Alphabet Soup Technique: The Best Free Keyword Research Tool?
This post may contain affiliate links. If you choose to purchase something through one of my links, I will earn a small commission at no extra cost to you.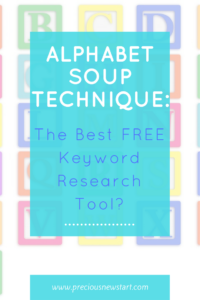 Are you struggling to find new keywords for your blog? Stuck writing new content and looking for some ideas? Or are you just looking for a way to find endless amounts of keywords?
If you run a blog and you're involved in affiliate marketing, it's common to be stuck for ideas for new content, and it's also common to want to find popular keywords for your niche.
Well,  I want to share with you a technique that I use often to find new blog topics and keywords for blog content. The technique I use is called the Alphabet Soup Technique.
What is the Alphabet Soup Technique?
---
Sounds like a funny name right? Essentially, the Alphabet Soup Technique is a method of finding keywords using the Google Instant feature and the alphabet.
If you've ever searched on Google, you'll notice that when you start to type a term/phrase into the search bar, a number of suggestions become available.
Using this feature and technique, we can find a long list of keywords that people are searching online for that related term/phrase.
It's given this name because you use the letters of the alphabet to help you come up with new keyword results.
How does the Alphabet Soup Technique Work?
---
To get started with the Alphabet Soup Technique, you'll need to head over to Google and type a term into the search bar. In this example, I'll be using the term "keyword research". As you can see from the screenshots below, all you really have to do is type in your keyword in the search bar + a letter from the alphabet. Google Instant will list the most popular searched terms first.
Keyword Research + "a"

Keyword Research + "b"

Keyword Research + "c"

The "before" variation
You can find further keywords by putting the chosen letter in front of your keyword. See below for examples:
"a" + Keyword Research

"b" + Keyword Research

All the results won't be perfect, but you can essentially see that this method allows you to potentially generate an endless amount of keywords for your niche.
Alphabet Soup Technique [Video]
---
If you'd like to see the Alphabet Soup Technique in action then I'd recommend watching the video below, which shows you how to use it in more detail.
Why Is Keyword Research Important?
---
Doing keyword research is very important for so many different online businesses. Whether you're involved in Affiliate Marketing, Youtube or e-Commerce, you'll need to be able to do keyword research to help improve your business results. It's also beneficial when you start working on Pay Per Click campaigns as your business progresses.
Alphabet Soup Technique for Affiliate Marketing
---
With Affiliate Marketing you need to know what people in your niche are looking/searching for online. That's why using the Alphabet Soup Technique is a very useful method for this. You can see what key phrases are highly searched and then you can use this to help you create quality content on your blogs or websites. It can also help you identify areas which you may not have considered, and may even open your eyes to a less competitive niche, within your current niche, which can even lead to better affiliate success.
Alphabet Soup Technique for Youtube 
---
There are so many people turning Youtube into a business these days, and being familiar with keywords research can help you see what phrases people are looking for within Youtube. In this situation, the Alphabet Soup Technique can be carried out using the Youtube search bar. You can find what keywords/phrases are popular in your niche and use this feature to help you think of more video content ideas. Below are some example screenshots:

Alphabet Soup Technique for e-Commerce
---
This technique can even be used if you have an e-Commerce business. Whether you sell on eBay, Amazon, Etsy or via Shopify,  keyword research is important in helping you get more sales to your products. You need to know and understand the keywords that your audience are likely to search for in order to optimise your product listing.
The Alphabet Soup Technique may even be used to help you find new products to sell that are related to your niche. Who knows, you may end up finding a profitable low competitive product to sell, all because of keyword research.
When I first started my eBay business I was clueless about keywords. But as I went through the training at Wealthy Affiliate I was able to fully understand the importance of keywords and how they can boost your sales. I did a lot of work on improving my keywords and because of this, I was able to improve my sales greatly as people were finding my products better. Luckily, this isn't just limited to eBay, it can be applied to other e-Commerce businesses too.
Overall, this just goes to show that Keyword Research is an important aspect for most online businesses, and doing this research can help improve your business success. The Alphabet Soup Technique can be copied to many different types of business, which is why it's one of the best FREE keyword research tools/methods in my opinion.
What I Like About The Alphabet Soup Technique 
---
The Alphabet Soup Technique is completely free, all you need is access to the Google search engine (or any other search engine).
This technique is so easy to use and doesn't require any technical knowledge. So long as you know how to search on Google you're good to go.
Using this technique will allow you to generate lots of keyword results, and there's so many different ways to generate new keywords.
The Alphabet Soup Technique is great for helping generate new content ideas for your websites or youtube channels. As mentioned before, it can even help you come up with new ideas for products to sell in your e-commerce store.
No need to join or download software:
When using the Alphabet Soup Technique there's no need for you to sign up to any program or to download any software. You just head over to Google (or any other search engine) and start searching.
Method can be used on other search engines:
Another good thing about this technique is that it doesn't have to be limited to only Google . You can use this method on Bing and Yahoo, as well as Youtube, for some extra results.
What I Don't Like About The Alphabet Soup Technique
---
When using this tool with Google Instant (or other search engines), you don't get to see the detailed statistics for any particular search term. For example, you're not able to see how many searches your chosen keywords get monthly, and how much traffic you can expect to receive. It's also harder to gauge the competition for that keyword.
This is a problem which usually comes from free methods. Using the Alphabet technique with Google Instant (or other search engines) can be a bit time-consuming cause you have to manually go through each letter of the alphabet to get new results.
Additional FREE keyword research tools
---
Ubersuggest

Ubersuggest uses the Alphabet Soup Technique to come up with results for keyword phrases. The website has gotten a lot better since the last time I used it and you can get an extensive list of keywords related to your root search term. You can even search via country to make it more specific. When you click on each keyword you can also see the "Google Trends", which allows you to see how popular that keyword is in a graph format. Below are a few examples of searches I received for "Keyword Research".



Jaaxy
Jaaxy is my recommended Keyword Research tool and it offers a free trial to allow you to test the full program. You get given 30 searches and it's a great way for you to test out the program before making any purchases. Jaaxy has an in-depth search function which gives you lots of statistical details on different keywords. It also allows you to search for keywords with the Alphabet Soup Technique.
Keywordtool.io
Keywordtool.io is a free online tool that allows you to search keywords on different platforms such as Google, Bing, Youtube, and Amazon. It doesn't use the Alphabet Soup Technique, but it's useful for finding more keywords. There's a free option, but it only provides limited results. If you want more results and data you would need to upgrade to Keyword Tool Pro ($48-$88/month)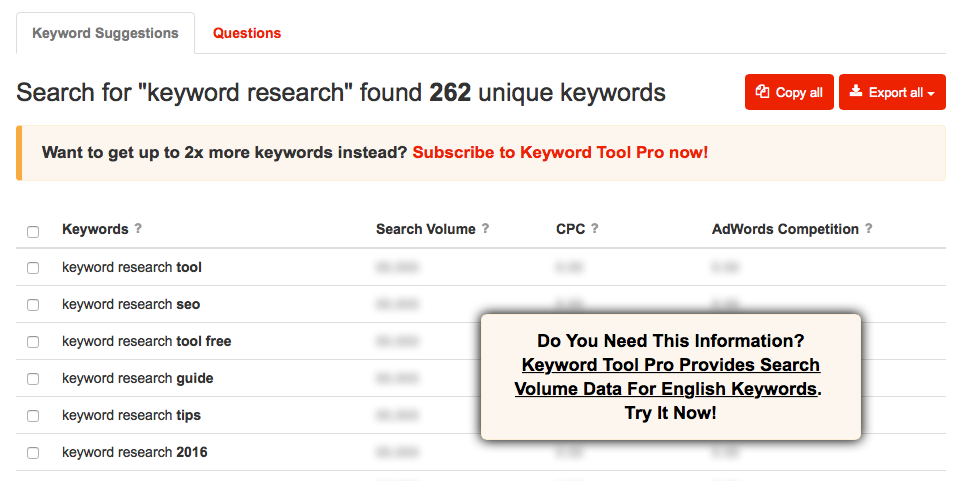 My #1 Recommended Keyword Research tool
---

My personal #1 recommended Keyword Research tool is Jaaxy.
Although it's not completely free, it does offer a free trial of the full program and it offers so much more than just a list of keywords.
You can get started with the free trial which gives you 30 free searches. Then you can choose to upgrade to one of the 2 paid memberships, Pro ($19 per month) and Enterprise ($49 per month)
I currently have the Pro membership and it's the one I personally recommend using, especially if you're just starting out.
FURTHER READING: Jaaxy Review – What Is The Jaaxy Keyword Tool About?
If you join Jaaxy, you can also use the Alphabet Soup Technique feature to instantly find keywords without manually having to type in each letter of the alphabet (my preferred method). So in the example below, I used the phrase "keyword research". Once you've gotten your results, you can make it more targeted by clicking on  "Find Data" and then you'll be given further related keywords which you can use. At the time of writing the image below shows the results I received:
My Final Thoughts
---
Overall, I personally recommend using the Alphabet Soup Technique for finding new keywords for your online business. You can see what terms are being searched on Google. Luckily, this technique isn't just limited to Google, and it can be copied over to Youtube, Bing and Yahoo search function.
Is the Alphabet Soup Technique the best free method to find keywords?
In my opinion, yes it is the best free method for finding new/additional keywords.  I like that you're able to get lots of results and you can find new keywords that you may never have thought of before. However, it can be very time-consuming if you search manually, and if you use Google Instant you won't be able to see all the important stats for  potential keywords. So to overcome that I would also suggest using additional free online websites such as Ubersuggest and Jaaxy (free trial) for the Alphabet Soup Technique.
With all that being said, the technique is a great way to find keywords completely free, and a good way to find some new, fresh content ideas. I personally like to use this method alongside Jaaxy for more in-depth research.
If you're interested in trying out Jaaxy today, just click the button below to start your FREE trial. 
What are your thoughts on the Alphabet Soup Technique? Do you think it's the best free tool to get new keywords? What other tools do you use for keyword research? Feel free to drop a comment in the section below. 
Pin This For Later
---