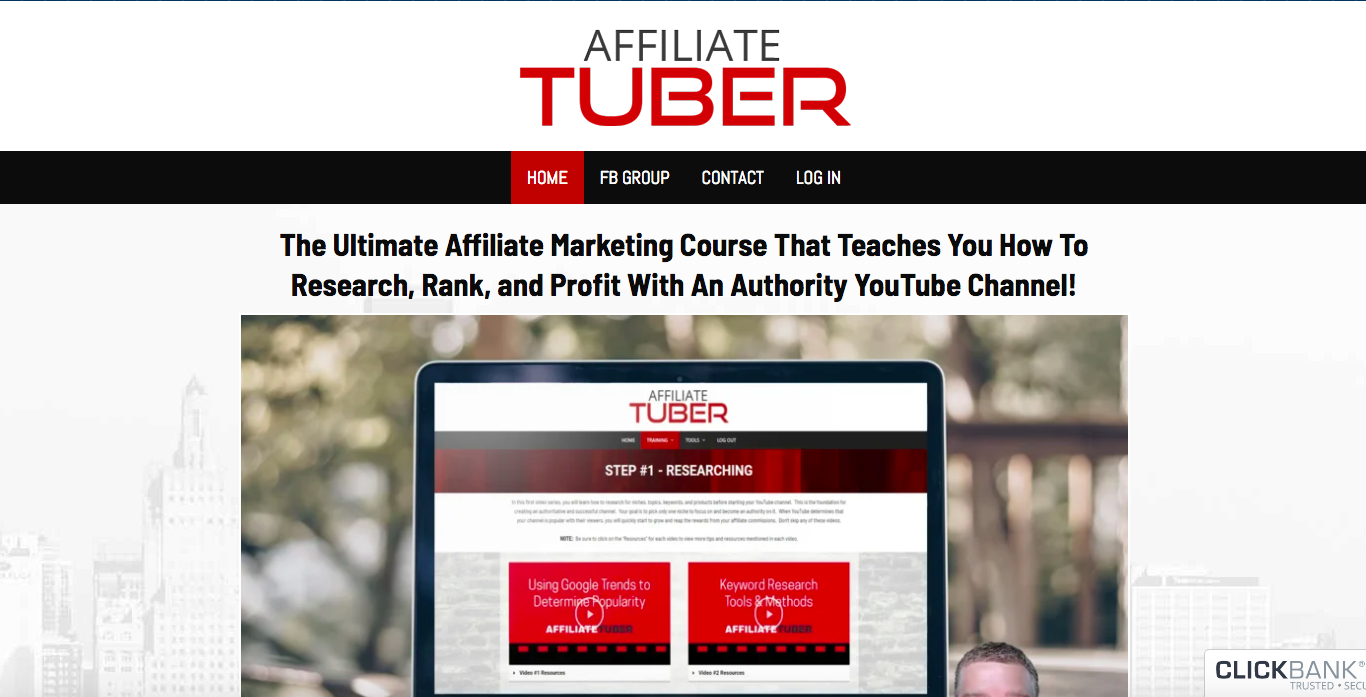 AffiliateTuber Review – Is It A Scam Or Legit Way To Profit From YouTube?
This post may contain affiliate links. If you choose to purchase something through one of my links, I will earn a small commission at no extra cost to you.
Welcome to my AffiliateTuber review.
Have you ever thought about being able to make money online with Youtube?
What if there was a training platform that taught you how to create Youtube videos that you can monetise with other people's products!
Well, that's what AffiliateTuber aims to provide within its training platform.
But can AffiliateTuber really show you how to make money this way?
The fact you're on this page shows you're interested in discovering the truth, and wondering if it's really worth it.
If that's the case, then I want to say "well done". It's important to be able to research any online opportunity before you invest any money, and avoid being scammed.
So, let's not waste any more time in unravelling the truth...
Product Name: Affiliate Tuber
Website: www.AffiliateTuber.com
Owner: Chris Derenberger
Price: $37/month
Rating: 7/10
Type of Opportunity: Youtube + Affiliate Marketing
Verdict? LEGIT
More...
What is AffiliateTuber?
AffiliateTuber is an online video training course that teaches you how to profit from Youtube videos using Affiliate Marketing.
The owner, Chris, has created an in-depth course, in order to give you the best content for making money online with Youtube.
How Does AffiliateTuber Work?
There are over 40 videos that give you the training and tools to be able to set yourself up as a Youtube authority and monetise your channel for profit.
There are 5 main steps involved in the platform:
Step 1: Researching for niches, keywords and products
Step 2: Channel Setup to help you get started with the proper default settings
Step 3: Building Authority
Step 4: Uploading and Optimising your videos
Step 5: Ranking for Youtube and Google
What's Included In The Training?
In the Private Reserve training you can expect to find:
40+ training videos (and more to come)
LIVE case studies
Access to monthly bonuses
Access to VIP Facebook group
Training on how to find profitable affiliate products
Also, training on how to rank on Youtube and Google
Pricing
The pricing for AffiliateTuber is currently at $37/month
The Good...
The NOT So Good...
Despite this being a legitimate training platform and a legitimate way to make money online, there are a few things missing from this training that I'd like to touch on.
Final Thoughts - Is AffiliateTuber A Scam?
Thank you for taking the time to read through this AffiliateTuber review.
I hope it's given you some further insight into the training platform.
Having spent some time getting to know this program, I definitely don't believe AffiliateTuber is a scam.
I believe, if you're able to follow the training step-by-step and implement the advice given to you, then yes, it is very possible to make money with this method.
If you've ever been unsure about whether Affiliate Marketing works, just take a look at these screenshots below:
Thanks to this #1 training platform, I've gained the necessary skills to generate affiliate commissions like the ones you see above.
This is all using free traffic too...but instead of focusing on creating Youtube videos, I write blog posts like this.
Not only that, but these 4 members are able to earn 4-figures every month thanks to Affiliate Marketing.
Ultimately, I'm not sharing these to brag, but to give you a glimpse into the income potential that can be earned, thanks to Affiliate Marketing.
You could very well make more than me, or you could make less than me. It all depends on your hard work and determination.
All in all, Affiliate Marketing is a business model that I know works very well.
If that's something you believe you can do, then I'd encourage you to click the GREEN button below to discover more about my top recommended Affiliate Training program.
(psst...it's free to join)
---
Let's discuss:
What did you think of this AffiliateTuber review?
What are your thoughts on using Youtube to promote affiliate offers?
Are you already using Youtube to promote as an affiliate? Have you had success with it?
I'd love to hear your thoughts, comments and experiences in the comments section below.