6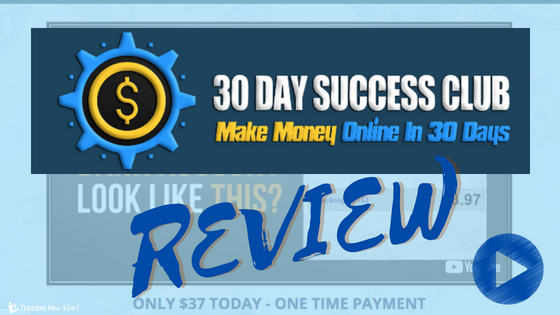 30 Day Success Club Review – 9 UGLY TRUTHS Revealed!
This post may contain affiliate links. If you choose to purchase something through one of my links, I will earn a small commission at no extra cost to you.
Welcome to my 30 Day Success Club Review!
How would you like to make money online in 30 days?
I mean, who wouldn't right?
So, can a program like 30 Day Success Club really help you earn money online in 30 days?
Chances are, you've heard about 30 Day Success Club, and you're looking for an in-depth review to give you the REAL truth about this program.
If that's the case, then I want to say, Well Done! It's good to know that you're taking the time to review this "opportunity" to discover the truth for yourself.
Please note, I am not in an affiliate for this company, so my opinion about it is completely unbiased and I want to give you the most objective review.
In fact, I'll even cut to the chase upfront with you...
The product is nothing more than an affiliate site with "special offers" to Clickbank products, which you need to drive traffic to.
And, in terms of earning an income, it's very unlikely you'll be able to earn any money as the website you'll receive will be mediocre, and it appears the training is too low in quality to guide you through making any real money.
But wait...there's even more! So keep on reading.
Product Name: 30 Day Success Club
Website: www.30DaySuccess.club
Owner: Unknown
Price: $4.95-$37 + Upsells
Rating: 2/10
Recommended? NO
More...
What Is The 30 Day Success Club?
The 30 Day Success Club is an online program that promotes itself as an easy way for you to profit online with Affiliate Marketing.
With the 30 Day Success Club you will be given a "free" website to send traffic to and supposedly earn an income online through the links on your website.
The 30 Day Success Club Business Model
The 30 Day Success Club business model is all about Affiliate Marketing.
Affiliate Marketing involves promoting different products and being able to earn a commission whenever someone purchases a product you've promoted.
So, if you choose to join the 30 Day Success Club you have a website set up for affiliate commissions from Clickbank products.
However, it appears there's very little training on how to promote your site and get traffic to convert into sales.
That is not a good Affiliate strategy.
Not only that...but there are also tons of red flags which make this product very flawed, and scam-like.
The 9 UGLY Truths Revealed!
1) Fake Testimonials
As you go through the sales video you'll come across a number of "testimonials" of people claiming that the 30 Day Success Club earned them tons of money.
However, the "members" in the sales video are just people hired from Fiverr to act as a spokesperson of their "business.
Not only that, not one of the "members" showed any proof of their success, it was just all talk!
2) Product Is NOT Free At All!
The #1 red flag for me is the fact that this site claims time and time again that the method is free, yet you need to pay a fee of up to $37 to cover the costs of your website.
It's so unreal how many times I saw "free" and in the same sentence read "just a one time fee"
Really?!!
Just have a look at these screenshots below
Now you see what I mean!
Just from this fact alone, I would HIGHLY encourage you to stay away from this product!
You're being misled right from the beginning.
But wait!...there's still more!
3) Different Pricing Structures
As you can see from the screenshots above, the pricing structure is constantly changing depending on which landing page you are sent to.
This just raises the red flags even higher.
Why would a legitimate product/service need to have such varying price plans, from $4.95 all the way up to $37??
4) Misleading Income Claims
Not only are there varying price plans, you'll also find that the income claims are very misleading.
Based on what I've seen of the "free" website you'll be receiving, it'll be very difficult to earn anywhere near $1000+ a day.
Like i mentioned previously, your site is just full of Clickbank links and thumbnails.
Although you're supposedly offering your visitors coupon offers, you're not giving them enough information about the products on the site...so what would encourage them to buy from you?
Therefore, I believe you'll have very low conversion rates and sales.
5) Pointless Upsells
There are currently 3 upsells within the 30 Day Success Club platform, which includes:
Email Compatibility $37: Integrate an autoresponder to build your list (Note: this doesn't include the monthly cost of your chosen autoresponder)
3 x More Sites $47: This is definitely an unnecessary upsell, cause if you can't successfully get traffic and sales for 1 site, how on earth will you get it for 3 sites??
Heatmaps $47: Get analytics to your sites. However you can use Google Analytics for free, and a tool called Inspectlet for heatmaps, also for free.
6) Mediocre Websites + Lacking Important Pages
Ultimately, your "free" website is just a collection of Clickbank Affiliate offers.
There's no need for you to have to pay for a mediocre website like this, nor do you need to pay for the privilege to host Clickbank affiliate links on your site.
Clickbank is a free platform, and you can choose to promote products for free.
Additionally, you can create your own money making site for FREE using this simple website builder.
Not only that, but your "free" success club website will be lacking some very important pages, such as Privacy Policy, About me and Affiliate Disclosure etc.
Here's a guide on why these pages are important on any potential website you build for affiliate marketing.
7) Unknown Owner
Similar to another product I've reviewed, the owner has hidden their face, and this time they've hired someone to read the script and do the voiceover.
This is a very common practice within scam products and is one of the early signs that the program you are looking at is not legitimate.
8) You'll Struggle To Get High Converting Traffic
The website is just a hub of Clickbank affiliate links. There's nothing about your "free" site that'll make visitors click through and make a purchase.
Your website doesn't offer product reviews or any content of value, and as mentioned above, it'll be lacking some vital pages, which are necessary for legitimate websites.
As well as struggling with free advertising, due to poor Search Engine Optimisation (SEO) techniques, you'll also struggle to get paid advertising that converts too.
9) Only Profitable To The Owners And Affiliates
In a nutshell, the only people who are actually going to make money with this joke of a program are the owners, and the affiliates who promote it.
I am not an affiliate for this product, and would not encourage anyone to follow this site.
Pros
Cons
Is 30 Day Success Club A Scam?
Yes, I believe 30 Day Success Club is a scam because it doesn't deliver on its promises. I don't usually go around bashing online programs, but this is one I seriously recommend you stay away from!
There are too many inconsistencies with the pricing, the websites are mediocre and not going to produce any substantial results, there's almost no training available, and they are misleading you on the actual income you'll gain from them.
Ultimately, you'll be wasting your money, and wasting your time. This program has all the signs of a scam!
How I Make Money Online With Affiliate Marketing
Despite the prevalence of online scams, such as this one, there is still hope for Affiliate Marketing, and it is still very possible to earn an income online with it.
It's through Affiliate Marketing that I'm able to earn a monthly income online. Just take a look at the screenshot below which shows my monthly income increase dramatically over a 5 month period.
Plus...here are some other commission payments from other affiliate programs. I'm not sharing these to brag, but to give you a glimpse into the income potential that can be earned, thanks to Affiliate Marketing.
All in all, Affiliate Marketing is a business that requires hard work and determination.
If that's something you believe you can do, then I'd encourage you to take a look Wealthy Affiliate for FREE, and discover why it's my #1 recommended training platform for beginners.
Final Thoughts
Thanks for taking the time to read this 30 Day Success Club review.
Based on what this program offers, its highly unlikely anyone can make tons of money using the method in this program.
Affiliate Marketing is a legitimate business model. However, the websites provided by the 30 Day Success Club will likely have very low conversion rates, as you're offering very little value to your website visitors.
Not only that, but there are too many red flags which encourage me to believe this product is a scam and a complete waste of your time.
So, here's what you should do next...If Affiliate Marketing is a business model you want to get involved in, and you'd like to follow in my footsteps, then you should click the button below to get access to the starter membership today...completely FREE.
Plus, get access to the best affiliate marketing tools below, to supercharge your affiliate success!
Want Access To The Best Affiliate Tools?

Enter Your Best Email To Download The "Super Affiliate Marketers Toolkit"
​

What are your thoughts on the 30 Day Success Club?
Do you have any experience with this product?
Where you thinking of joining, but chose not to based on this review?
Be sure to join the discussion below, I'd love to hear your thoughts, comments and experiences.